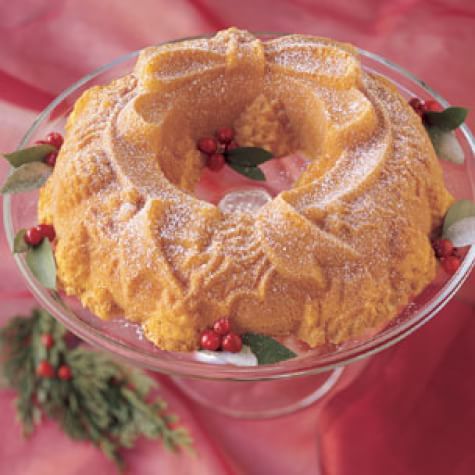 Orange Buttered Rum Cake
This cake is spiked with a touch of rum, a Caribbean liquor distilled from sugarcane juice or molasses. Rum is available in a range of colors, each stronger in flavor, from milk white or silver to golden, amber, dark and Demerara, the darkest and most full-bodied one.
Ingredients:
2 1/2 cups cake flour

2 tsp. baking powder

1/2 tsp. salt

1 cup milk

1 Tbs. dark rum

3/4 tsp. orange oil

16 Tbs. (2 sticks) unsalted butter

1 1/2 cups granulated sugar

3 eggs plus 1 egg yolk

Confectioners' sugar for dusting
Directions:
Have all the ingredients at room temperature.

Position a rack in the lower third of an oven and preheat to 350ºF. Grease and flour a wreath cake pan.

To make the cake, over a sheet of waxed paper, sift together the flour, baking powder and salt; set aside.

In a small bowl, combine the milk, rum and orange oil and stir to mix; set aside.

In the bowl of an electric mixer fitted with the flat beater, beat the butter on medium speed until creamy and smooth, about 30 seconds. Add the granulated sugar and beat until light and fluffy, about 5 minutes, stopping the mixer occasionally to scrape down the sides of the bowl. Add the eggs and egg yolk one at a time, beating well after each addition.

Reduce the speed to low and add the flour mixture in three additions, alternating with the milk mixture and beginning and ending with the flour. Beat each addition until just incorporated, stopping the mixer occasionally to scrape down the sides of the bowl.

Pour the batter into the prepared pan and, using a rubber spatula, spread the batter so the sides are slightly higher than the center. Bake until the center of the cake springs back when lightly touched and a toothpick inserted into the center comes out clean, about 45 minutes. Transfer the pan to a wire rack and let the cake cool upright in the pan for about 15 minutes.

Tap the pan gently on a work surface to loosen the cake. Set the rack over a sheet of waxed paper, invert the pan onto the rack and lift off the pan. Let the cake cool completely before serving. Dust with confectioners' sugar just before serving. Serves 16.

Flo Braker, Author, Sweet Miniatures (Chronicle Books, 2000).