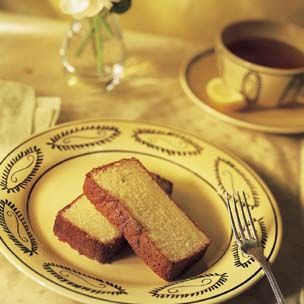 Marzipan Cake
Servings:
10
Serves 8 to 10.
In countries where almonds are grown, the harvest begins in late spring and the fresh nuts are much prized. Drying, however, makes this versatile nut available year-round, and the almond-sugar paste known as marzipan extends the range of its uses. Top slices of this moist cake with fresh strawberries and softly whipped cream, or offer it plain with tea or coffee.
Ingredients:
1 cup sugar

6 oz. marzipan

12 Tbs. (1 1/2 sticks) unsalted butter, at room
&nbsptemperature

1/4 tsp. almond extract

5 eggs, at room temperature

3/4 cup plus 2 Tbs. all-purpose flour

1 1/4 tsp. baking powder

1/4 tsp. salt
Directions:
Preheat an oven to 350°F. Butter an 8 1/2-by-
4 1/2-by-2 1/2-inch loaf pan and dust with flour. Tap out the excess flour.

Using an electric mixer or food processor fitted with the metal blade, pulverize together the sugar and marzipan until the mixture is in fine pieces. If a food processor was used, transfer the mixture to a large bowl.

Add the butter and almond extract and mix until light and fluffy, 1 to 2 minutes. Add the eggs one at a time, beating well after each addition until thoroughly combined. Sift together the flour, baking powder and salt over the egg mixture and beat in just until thoroughly blended.

Pour the batter into the prepared pan. Bake until a toothpick inserted into the center comes out clean and the top springs back when lightly pressed, about 1 1/4 hours. Transfer the pan to a wire rack and let cool for 15 minutes. Run a knife blade around the edge of the cake and invert onto the rack. Lift off the pan and cool the cake upright on the rack for at least 30 minutes before serving.
Serves 8 to 10.