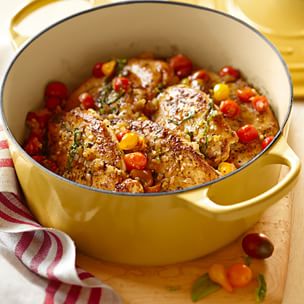 Sautéed Chicken Breasts with Warm Tomato Salad
Cherry tomatoes, which pack a healthful punch, are often seen as a garnish and left behind on the plate. Here, as a sauté atop lean chicken breasts, they make a nutritious, one-dish weeknight supper.
Ingredients:
6 boneless, skinless chicken breast halves, each about 6 oz.

Sea salt and freshly ground pepper, to taste

2 Tbs. olive oil

2 large shallots, minced

1 garlic clove, minced

2 cups cherry and pear tomatoes, preferably a mix of colors
and shapes, stemmed and halved

1/2 cup slivered fresh basil
Directions:
One at a time, place the chicken breasts between 2 pieces of plastic wrap and lightly pound with a meat pounder to a thickness of about 1/2 inch. Season the chicken generously on both sides with salt and pepper.

In a Dutch oven over medium-high heat, warm the olive oil. Working in batches, add the chicken and reduce the heat to medium. Cook, turning once, until nicely browned and opaque throughout, 4 to 5 minutes per side. Transfer each piece to a plate as it is finished and cover with aluminum foil.

Add the shallots and garlic to the pot and cook, stirring often, until softened, 2 to 3 minutes. Add the tomatoes and cook, stirring, until they begin to soften and split, about 4 minutes. Season with salt and pepper. Return the chicken to the pot and toss with the tomatoes. Sprinkle with the basil and serve immediately. Serves 6.

Adapted from Williams-Sonoma Good for You, by Dana Jacobi (Weldon Owen, 2013).