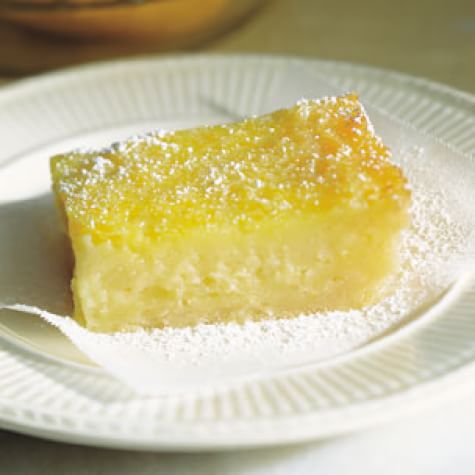 Lemon Curd Squares
Servings:
12
Makes 12 bar cookies.
When zesting and juicing a lemon, always zest first. Use a zester or grater and make short, sweeping strokes, rotating the fruit slightly after every 1 or 2 swipes. Avoid removing the white pith, which imparts bitterness. To extract the most juice, press and roll the lemon on the countertop to crush it slightly, then halve it crosswise. For small amounts of juice, use a hand reamer or juicer, rotating the lemon and pressing and squeezing until all the juice is released. For large amounts, electric juicers are efficient, but use caution as they may oversqueeze and extract bitter pith.
Ingredients:
For the crust:
1 cup all-purpose flour

1/3 cup granulated sugar

1/2 tsp. salt

1/8 tsp. ground cinnamon

8 Tbs. (1 stick) cold unsalted butter, cut into
&nbsp 1/2-inch pieces
For the filling:
3/4 cup granulated sugar

2 Tbs. all-purpose flour

Pinch of salt

1 tsp. finely grated lemon zest (optional)

3 eggs, at room temperature

1/2 cup fresh lemon juice

3 Tbs. heavy cream


Confectioners' sugar for dusting (optional)
Directions:
To make the crust, preheat an oven to 350°F. Lightly grease an 8-inch square baking dish, preferably glass.

In a food processor, combine the flour, granulated sugar, salt and cinnamon. Pulse briefly until blended. Add the butter and pulse until the dough forms moist crumbs and sticks together when pinched, about 1 minute. There should be no trace of dryness. Press the dough into the bottom and 1 inch up the sides of the prepared baking dish, lightly flouring your fingertips if necessary to prevent them from sticking. Bake the crust until pale golden, 20 to 22 minutes. Transfer the pan to a wire rack and let the crust cool completely. Reduce the oven temperature to 325°F.

To make the filling, in a bowl, whisk together the granulated sugar, flour, salt and lemon zest. Add the eggs, lemon juice and cream and whisk until just blended. Carefully pour the mixture over the baked crust.

Bake until the filling is set but still jiggles slightly when the dish is gently shaken, about 20 minutes, or longer if using a metal pan. Transfer the pan to the wire rack and let cool for about 30 minutes. Run the tip of a small knife along the inside of the dish to loosen the crust from the sides, then let cool completely.

Cut into 12 small rectangles. Using a spatula, carefully remove the bars from the dish. Just before serving, sift a dusting of confectioners sugar over the bars.
Makes 12 bar cookies.