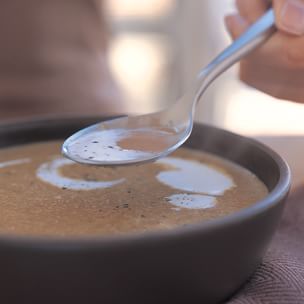 Creamy Mushroom Bisque
The versatile stock includes both fresh and dried mushrooms. It makes a flavorful base for a rich bisque, and you'll have enough left over to make other delicious dishes.

To store the extra stock, let it cool, then transfer to airtight containers. Store in a refrigerator for up to 3 days or in a freezer for up to 2 months.
Ingredients:
For the mushroom stock:
2 Tbs. olive oil

2 large yellow onions, chopped

1 1/2 lb. white button mushrooms, sliced

1/2 oz. dried shiitake or porcini mushrooms

4 celery stalks, chopped

1 tsp. peppercorns

2 1/2 qt. water
For the soup:
4 Tbs. unsalted butter

1 large shallot, chopped

10 oz. cremini mushrooms, chopped

3 Tbs. flour

1/4 cup brandy

1/2 cup heavy cream, plus more for garnish

Salt and freshly ground pepper, to taste
Directions:
Make the mushroom stock
In a large saucepan over medium-high heat, warm the oil. Add the onion and sauté until lightly browned, about 15 minutes. Add the button and shiitake mushrooms, celery and peppercorns along with the water. Bring to a boil, reduce the heat to medium-low and simmer, uncovered, for 40 minutes. Remove from the heat and let stand for 1 hour. Strain into a bowl, pressing lightly on the solids to extract the liquid, and discard the solids. Reserve 3 cups of the stock and store the rest (see note above).

Cook the soup
In a large, heavy saucepan over medium heat, melt the butter. Add the shallot and sauté until translucent, about 2 minutes. Add the cremini mushrooms, cover and cook until their juices are released, about 3 minutes. Stir in the flour and cook, stirring, until thoroughly blended, about 1 minute. Pour in the reserved stock and the brandy. Bring to a boil, cover, reduce the heat to medium and simmer for 15 to 20 minutes.

Finish the soup
Transfer the soup to a blender and process until pureed. Add the 1/2 cup cream and pulse twice. Season with salt and pepper. Ladle into bowls, drizzle with cream and serve. Serves 4; makes about 7 cups stock total.

Adapted from Williams-Sonoma Food Made Fast Series, Vegetarian, by Dana Jacobi (Oxmoor House, 2007).