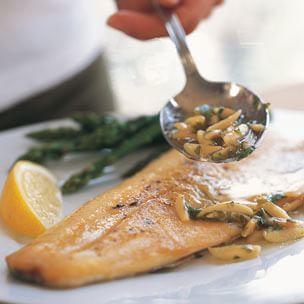 Trout Amandine
It is important that the trout in this recipe (and any fish prepared in a fry pan on the stovetop) cook evenly. To ensure even cooking, when you turn the fillets, exchange those in the center, where the heat is most intense, with those near the sides of the pan. This recipe also works well with sole, flounder or tilapia.
Ingredients:
4 trout fillets, about 1 1/2 lb. total

Salt and freshly ground pepper, to taste

1/4 cup slivered almonds

1/3 cup all-purpose flour

2 Tbs. olive oil

4 Tbs. (1/2 stick) unsalted butter

Juice from 1 lemon

1/4 cup minced fresh flat-leaf parsley
Directions:
Place the trout fillets on a plate and season on both sides with salt and pepper; set aside.

Heat a large fry pan over medium-low heat. Add the almonds and toast, stirring frequently, until they turn light tan, 3 to 5 minutes. Transfer to a plate.

Return the pan to medium-low heat. Spread the flour on a large plate and dip the fillets in the flour, coating both sides well and shaking off any excess. Add the olive oil to the pan and increase the heat to medium. Add the trout fillets, skin side up, and cook until browned, about 4 minutes. Turn the fillets over and cook until they flake easily near the tail ends, about 2 minutes more. Transfer the fillets, skin side down, to individual plates and keep warm.

Wipe any oil from the pan with a paper towel. Return the pan to medium heat and add the butter. When the butter has melted, add the lemon juice and parsley. Stir in the almonds and season the sauce with salt and pepper. Spoon the sauce over the fillets and serve immediately. Serves 4.

Adapted from Williams-Sonoma Food Made Fast Series, Seafood, by Jay Harlow (Oxmoor House, 2007).