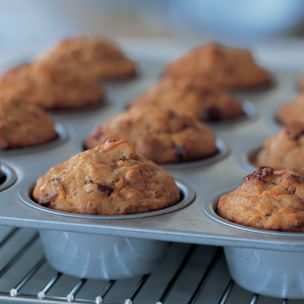 Spiced Carrot Muffins
To use this muffin batter for making a carrot cake, butter and flour a 9-inch square baking pan, pour in the batter and bake as directed for the muffins, but increase the baking time to 45 to 50 minutes. Let the cake cool completely in the pan on a wire rack, then turn it out and frost with your favorite cream cheese frosting or vanilla buttercream.
Ingredients:
2 cups all-purpose flour

2 tsp. baking powder

1/2 tsp. baking soda

1/4 tsp. salt

1 tsp. ground cinnamon

2 eggs

2/3 cup firmly packed light brown sugar

1 cup buttermilk or sour cream

6 Tbs. (3/4 stick) unsalted butter, melted

2 large carrots, peeled and finely shredded (1 1/2 cups)

1/2 cup raisins, dried currants or golden raisins (optional)
Directions:
Prepare the muffin pan
Preheat an oven to 425°F. Line 12 standard muffin cups with paper liners.

Mix the batter
In a large bowl, stir together the flour, baking powder, baking soda, salt and cinnamon.

In another bowl, whisk together the eggs and brown sugar until blended. Whisk in the buttermilk and butter. Add the egg mixture to the flour mixture and, using a rubber spatula, stir just until evenly moistened. Fold in the carrots and raisins just until evenly distributed.

Bake the muffins
Spoon the batter into the prepared muffin cups, filling them three-fourths full. Bake until the muffins are golden brown and a toothpick inserted into the center of a muffin comes out clean, 15 to 18 minutes. Transfer the pan to a wire rack and let cool for 2 minutes, then turn the muffins out onto the rack. Let cool briefly and serve. Makes 12 muffins.

Adapted from Williams-Sonoma Food Made Fast Series, Baking, by Lou Seibert Pappas (Oxmoor House, 2006).