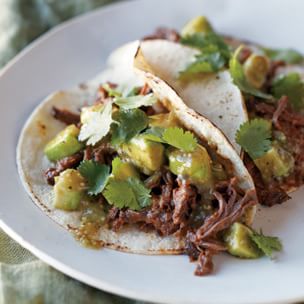 Short Rib Tacos
Avocado-tomatillo salsa brightens the flavors of these hearty tacos. Instead of the homemade version featured here, you can substitute purchased tomatillo salsa.
Ingredients:
For the avocado-tomatillo salsa:
1/2 lb. tomatillos, husks removed and quartered

1 or 2 jalapeño chilies, seeded and coarsely chopped

1/4 cup water

1/2 small white onion, halved

1/4 cup fresh cilantro leaves and cut-up stems

1 tsp. salt

1 avocado, halved, pitted, peeled and diced

3 dried ancho chilies

1 1/2 Tbs. canola oil

1 yellow onion, finely chopped

1 green bell pepper, seeded and finely chopped

3 garlic cloves, finely chopped

1/2 cup lager-style beer

1 Tbs. sherry vinegar

2 plum tomatoes, seeded and coarsely chopped


1 1/2 tsp. ground cumin

3 lb. beef short ribs, English cut, trimmed of most fat

Salt and freshly ground pepper, to taste

1/2 tsp. dried oregano

12 corn tortillas, each about 6 inches in diameter

1/4 cup coarsely chopped fresh cilantro
Directions:
To make the salsa, in a blender or food processor, combine the tomatillos and jalapeño chilies and process until chunky. Add the water, onion, cilantro and salt and process until smooth. (At this point, the salsa can be refrigerated for up to 3 days.) Stir in the avocado before serving.

Stem the ancho chilies, slit lengthwise and discard the seeds. Place in a heatproof bowl, cover with hot water and let soak for 20 to 30 minutes to rehydrate. Drain the chilies and set aside.

Preheat a broiler. In a heavy fry pan over medium-high heat, warm the oil. Add the onion and bell pepper and sauté until softened and lightly golden, about 6 minutes. Add the garlic and cook for 1 minute more. Pour in the beer and vinegar and stir to scrape up the browned bits from the pan bottom. Transfer the contents of the pan to a blender, add the chilies, tomatoes and cumin and process until smooth.

Season the short ribs all over with salt, pepper and the oregano, and place on a rack set over a rimmed baking sheet. Broil, turning once, until nicely browned on all sides, 8 to 10 minutes per side. Transfer the ribs to a slow cooker. Pour the chili mixture over the ribs, cover and cook on low according to the manufacturer's instructions until the meat is very tender, about 8 hours.

Transfer the ribs to a platter. Pull the meat from the bones, shred the meat and set aside. Pour the braising liquid into a saucepan and, using a large spoon, skim off the fat. Set the pan over medium-high heat, bring to a brisk simmer and simmer until reduced by about one-third, about 10 minutes. Add the meat to the sauce.

Heat a nonstick fry pan or a griddle over medium heat. One at a time, warm the tortillas, turning once, for about 30 seconds per side. Wrap in a kitchen towel to keep warm until all have been heated.

Using a slotted spoon, top the tortillas with the warm beef, dividing it evenly. Top each with some of the salsa and cilantro and serve immediately. Serves 6.

Adapted from Williams-Sonoma The New Slow Cooker, by Brigit Binns (Weldon Owen, 2010).