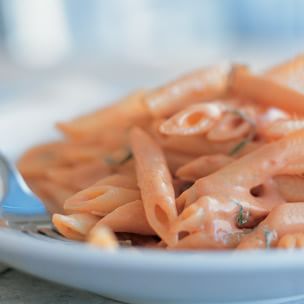 Penne with Vodka Sauce
For a new spin on classic vodka sauce, add a splash of brandy or Cognac to the 1/3 cup vodka. Simply substitute 2 Tbs. brandy or Cognac for the 2 Tbs. vodka.
Ingredients:
4 Tbs. (1/2 stick) unsalted butter

1 cup heavy cream

1/4 cup tomato paste

1/3 cup plus 2 Tbs. vodka

2 Tbs. slivered fresh basil

Pinch of red pepper flakes

1 tsp. plus 2 Tbs. salt

1 lb. penne or other tubular pasta

1/2 cup grated Parmigiano-Reggiano cheese
Directions:
Make the sauce
Bring a large pot of water to a boil over high heat. In a large fry pan over medium-low heat, melt the butter with the cream. In a small bowl, dissolve the tomato paste in the vodka. Stir into the cream mixture. Add the basil and red pepper flakes. Season with the 1 tsp. salt. Cook until most of the alcohol has evaporated and the sauce is thick enough to coat the back of a spoon, about 5 minutes.

Cook the pasta
Meanwhile, add the 2 Tbs. salt and the pasta to the boiling water. Cook, stirring occasionally to prevent sticking, until al dente, according to the package instructions. Drain, reserving about 1/2 cup of the cooking water. Add the pasta to the sauce and warm briefly over low heat to blend the flavors. Add the cheese and toss to combine. Add as much of the reserved cooking water as needed to loosen the sauce and serve. Serves 4.

Adapted from Williams-Sonoma Food Made Fast Series, Pasta, by Julia della Croce (Oxmoor House, 2006).