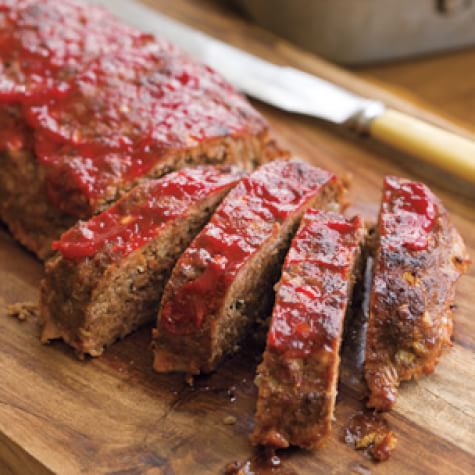 Meat Loaf with Gravy
Meat loaf rarely gets points for good looks, but it sure can be delicious! Use beef, veal and pork, a trio that yields an especially flavorful loaf that is also easy to slice. And don't neglect to make gravy from the pan drippings to spoon over the meat loaf and, of course, over a mountain of creamy mashed potatoes.
Ingredients:
Canola oil for greasing

1 yellow onion, minced

1/2 cup dried bread crumbs

1/2 cup plus 3 Tbs. ketchup 2 eggs, beaten

2 Tbs. Worcestershire sauce

1 tsp. kosher salt, plus more, to taste

1/2 tsp. freshly ground pepper, plus more, to taste

1 lb. ground beef

1/2 lb. ground pork

1/2 lb. ground veal

About 1 Tbs. unsalted butter

2 Tbs. all-purpose flour

2 cups beef stock
Directions:
Preheat an oven to 350°F. Lightly oil a small roasting pan.

In a large bowl, combine the onion, bread crumbs, the 1/2 cup ketchup, eggs, Worcestershire sauce, 1 tsp. salt and 1/2 tsp. pepper. Add the meats and mix with your hands just until combined. Transfer the mixture to the prepared pan and shape it into a thick loaf about 9 inches long.

Bake the meat loaf for 45 minutes. Spread the top of the meat loaf with the remaining 3 Tbs. ketchup and bake until an instant-read thermometer inserted in the center registers 165°F, about 15 minutes longer. Remove from the oven and let stand in the pan for 5 minutes. Using a large, wide spatula, transfer the meat loaf to a platter and tent with aluminum foil to keep warm.

Pour the fat out of the roasting pan. Measure 2 Tbs. fat, adding butter as needed to supplement it, and return the fat to the pan. Heat the roasting pan over medium heat until the butter melts. Whisk in the flour and let bubble for 1 minute. Gradually whisk in the stock and bring to a boil. Reduce the heat to medium-low and simmer, whisking frequently, until a lightly thickened gravy forms, about 5 minutes. Season with salt and pepper. Strain through a sieve into a warmed sauceboat. Slice the meat loaf and serve hot, passing the gravy on the side. Serves 6.

Variation: Make a double batch of meat loaf so you will have leftovers for sandwiches. Serve the sliced meat loaf on thick bread slices or torpedo rolls with ketchup or grainy mustard and tomato slices.

Adapted from Williams-Sonoma Comfort Food, by Rick Rodgers (Oxmoor House, 2009).