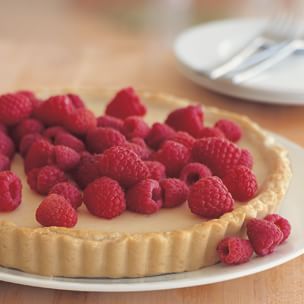 Lemon Tart with Raspberries
You can use a prepared graham cracker crust for this tart as well. Choose a 9-inch tart shell and follow the recipe starting with the second step (mixing the filling). Be aware that the purchased crust may take up to 10 minutes longer to bake.
Ingredients:
1 butter cookie dough disk, at cool room temperature

2 eggs

2/3 cup sugar

12 oz. cream cheese, at room temperature

1/2 cup sour cream

2 tsp. finely grated lemon zest

Juice of 1 lemon

2 Tbs. all-purpose flour

1 tsp. vanilla extract

1 carton fresh raspberries, about 6 oz.
Directions:
Partially bake the crust
Put the dough disk between 2 large sheets of parchment paper and roll out into a 12-inch round about 1/4 inch thick. Fold the dough round in half and transfer to a 10 1/2-inch tart pan with a removable bottom. Unfold the round and ease it into the pan, patting it firmly into the bottom and up the sides. Trim the edges to form a 1/2-inch overhang. Fold the overhang back over itself and press it into the sides of the pan. Freeze for at least 30 minutes or up to overnight.

Preheat an oven to 375°F.

Line the crust with aluminum foil and fill with pie weights. Place the pan on a baking sheet and bake for 10 minutes. Remove the foil and weights and continue to bake until the crust is set and lightly golden, about 5 minutes. Transfer the pan to a wire rack and reduce the oven temperature to 350°F.

Mix the filling
In a food processor, combine the eggs and sugar and process until smooth, about 1 minute. Add the cream cheese, pulse to break it up and then process until smooth, about 15 seconds. Add the sour cream, lemon zest, lemon juice, flour and vanilla and process just until smooth, about 20 seconds. Pour the filling into the partially baked crust.

Bake the tart
Bake until the top looks firm and is set when you gently shake the pan, about 35 minutes. Transfer the pan to a wire rack and let cool for about 1 hour. Remove the tart from the pan. Cover and refrigerate until cold, at least 3 hours or up to overnight.

Just before serving, spoon the raspberries on top of the tart. Serves 8.

Adapted from Williams-Sonoma Food Made Fast Series, Desserts, by Elinor Klivans (Oxmoor House, 2007).