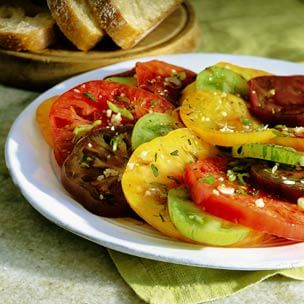 Heirloom Tomato Salad
Heirloom varieties are fruits and vegetables that were once cultivated but fell out of favor with large-scale growers because the produce neither shipped nor stored well. Many of them have superior flavor, however, and small-scale farmers have reintroduced the best varieties to farmers markets and greengrocers. Available in a wealth of sizes, flavors and colors, including yellow, orange and zebra striped, heirloom tomatoes are one of the glories of summer. Vendors at farmers markets will often offer you a taste of each type before you make a choice.
Ingredients:
6 to 8 very ripe heirloom tomatoes, in a variety
&nbsp of sizes, shapes and colors

1⁄4 to 1⁄2 tsp. sugar

Salt, to taste

2 green onions, 1⁄4 red onion or 1 shallot,
&nbsp chopped

2 garlic cloves, finely chopped (optional)

2 tsp. minced fresh oregano, or to taste

Balsamic vinegar, to taste

Sherry vinegar or white wine vinegar, to taste

3 to 5 Tbs. extra-virgin olive oil

Coarse country bread for serving
Directions:
Slice the tomatoes, capturing their juices in a bowl. Layer the tomatoes on a platter, sprinkling them with the sugar, salt, green onions, garlic, oregano and the captured juices as you arrange them.

Finish with a sprinkling each of balsamic vinegar and sherry vinegar, then drizzle with the olive oil. Let stand until ready to serve, or for up to 2 hours. Accompany with the bread for sopping up the juices. Serves 4.

Variations: Other summery fresh herbs can be used in place of the oregano: 1 tsp. chopped fresh thyme or rosemary, 1 Tbs. chopped fresh flat-leaf parsley, or 2 to 3 Tbs. chopped fresh basil.