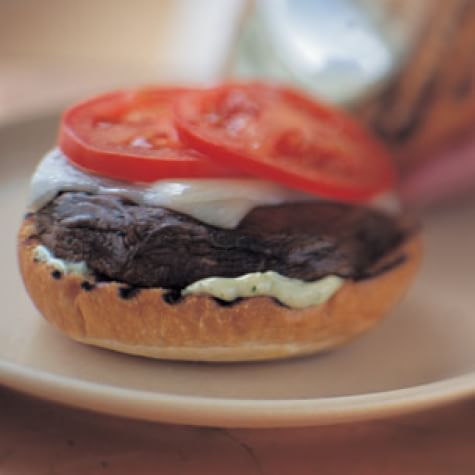 Grilled Portobello Burgers
Portobello burgers can be made with a variety of toppings. In place of the Monterey Jack cheese and tomatoes, use roasted red peppers and fresh goat cheese. Simply spread the goat cheese on one side of each toasted bun.
Ingredients:
2 Tbs. olive oil

1 Tbs. balsamic vinegar

1 garlic clove, minced

1/2 tsp. salt, plus more, to taste

1/8 tsp. freshly ground pepper, plus more, to taste

4 large portobello mushrooms, stems removed

4 slices Monterey Jack or smoked mozzarella cheese

4 round Italian rolls

2 Tbs. purchased pesto

1/2 cup mayonnaise

1 to 2 tomatoes, sliced
Directions:
Cook the mushrooms
Prepare a medium-hot fire in a grill, or preheat a stovetop grill pan.

In a small bowl, stir together the olive oil, vinegar, garlic, the 1/2 tsp. salt and the 1/8 tsp. pepper. Using a small spoon, remove the gills from the underside of the mushrooms. Brush both sides of the mushrooms with the oil mixture.

Place the mushrooms, stem side up, on the grill and cook until nicely grill-marked, about 4 minutes. Turn the mushrooms over and cook until tender, about 4 minutes more. Place 1 cheese slice on top of each mushroom 2 minutes before you remove them from the grill and cook until melted.

Toast the rolls
Meanwhile, cut the rolls in half horizontally. Place each half, cut side down, on the cooler part of the grill and cook until lightly toasted, 2 to 3 minutes. Alternatively, toast the rolls in a toaster oven.

Assemble the burgers
In a small bowl, stir together the pesto and mayonnaise and season with salt and pepper. Spread the pesto-mayonnaise on the cut sides of the toasted rolls. Place a grilled mushroom on the bottom half of each roll and top with the tomato slices. Top each with a top half of the roll and serve immediately. Serves 4.

Adapted from Williams-Sonoma Food Made Fast Series, Vegetarian, by Dana Jacobi (Oxmoor House, 2007).