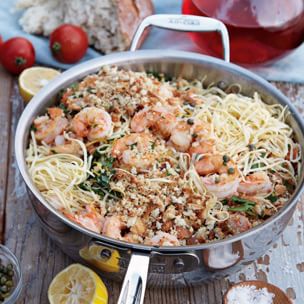 Fresh Pasta with Prawns and Lemon Oil
In Sicily's fishing villages, rustic handmade pasta is tossed with olive oil, garlic and fresh seafood. It's all about casual simplicity—and making the most of the day's catch. Inspired by that tradition, we created this recipe using prawns and lemon-infused olive oil. For the best results, make your own pasta from scratch.
Ingredients:
Kosher salt, to taste

3/4 lb. fresh pasta dough cut into tagliolini

1 1/4 cups olive oil

2 lemons, 1 zested


3 cups coarse bread crumbs

2 lb. prawns, peeled and deveined

Freshly ground pepper, to taste

2 tsp. minced garlic

1 Tbs. fresh lemon juice

1 tsp. anchovy paste

1/4 cup capers, rinsed and drained

2 Tbs. chopped fresh flat-leaf parsley

Grated Parmigiano-Reggiano cheese for serving (optional)
Directions:
Bring a large pot of water to a boil over high heat. Salt the water, add the pasta and cook, stirring occasionally, until al dente, 3 to 4 minutes. Drain the pasta in a colander, reserving 1 cup of the cooking water. Rinse the pasta with cool water; set aside.

Pour 1 cup of the olive oil into a small saucepan. Using a knife, cut the peel off 1 lemon and add the peel to the pan. Set over medium heat and heat the oil until just warm. Remove the pan from the heat and let stand for 30 minutes. Strain the lemon oil; set aside.

In a large sauté pan over medium-high heat, warm the remaining 1/4 cup plain olive oil. Add the bread crumbs and cook, stirring, until browned and toasted, 3 to 4 minutes. Transfer to a paper towel-lined plate.

Wipe out the sauté pan, set over medium-high heat and warm 1 Tbs. of the lemon oil. Season the prawns with salt and pepper. Add half of the prawns to the pan and cook until pink and opaque throughout, 1 to 2 minutes per side; stir in 1 tsp. of the garlic during the last 30 seconds of cooking. Transfer the prawns to a bowl. Wipe out the pan and repeat with 1 Tbs. of the lemon oil, the remaining prawns and 1 tsp. garlic. Toss the prawns with the lemon juice.

In the same pan over medium-high heat, warm 1 Tbs. of the lemon oil. Add the anchovy paste and stir until fragrant, about 10 seconds. Add 1/2 cup of the reserved cooking water, the pasta, capers and lemon zest and stir until heated through, adding more cooking water as needed. Transfer to a platter. Top with the prawns, bread crumbs and parsley. Drizzle with some of the lemon oil (reserve the remaining oil for another use). Sprinkle with cheese and serve immediately. Serves 4 to 6.

Williams-Sonoma Kitchen.