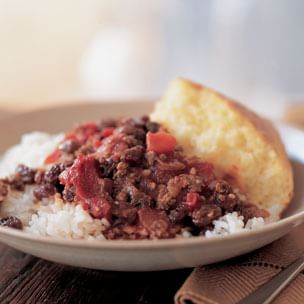 Cuban Beef Picadillo
This Cuban-inspired dish is also delicious wrapped in corn tortillas as a filling for soft tacos or in flour tortillas for burritos. Or, serve it over spaghetti and top with shredded cheddar cheese for a quick version of Cincinnati chili.
Ingredients:
1 Tbs. olive oil

1 yellow onion, chopped

1 1/2 lb. lean ground beef chuck

2 garlic cloves, finely chopped

2 Tbs. chili powder

3/4 tsp. ground cinnamon

1/2 tsp. ground allspice

1 can (28 oz.) diced tomatoes with juices

1 3/4 cups beef stock

2/3 cup raisins or currants

2 Tbs. tomato paste

1/4 cup red wine vinegar

Salt and freshly ground pepper, to taste

Steamed white rice for serving
Directions:
Cook the meat and onion
In a large, deep fry pan over medium-high heat, warm the olive oil. Add the onion and sauté until translucent, 3 to 4 minutes. Add the beef and cook, stirring to break up any clumps, until the meat begins to brown, 7 to 8 minutes. Spoon off and discard the excess fat.

Cook the tomatoes and seasonings
Stir in the garlic, chili powder, cinnamon and allspice and cook, stirring frequently, for 1 minute. Stir in the tomatoes with their juices, stock, raisins, tomato paste and vinegar. Bring to a simmer, reduce the heat to medium and cook, uncovered, until thickened to a stewlike consistency, 10 to 15 minutes. Season with salt and pepper.

Divide the steamed rice among 4 shallow bowls, ladle the picadillo on top and serve. Serves 4.

Adapted from Williams-Sonoma Food Made Fast Series, Weeknight, by Melanie Barnard (Oxmoor House, 2006).