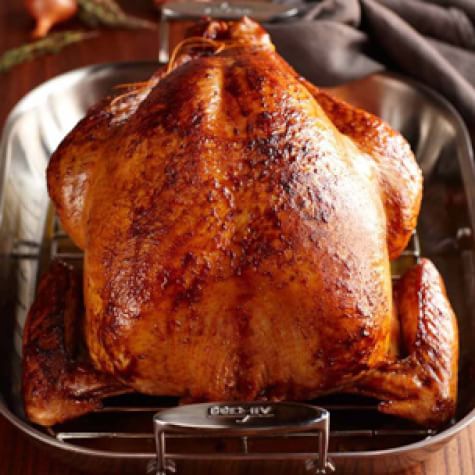 Cider Bourbon-Glazed Roast Turkey with Shallot Gravy
To enhance the flavor, this turkey is first brined in a seasoned saltwater liquid, then the bird is brushed with cider bourbon roasting glaze during the last 30 minutes of cooking. Serve with shallot gravy alongside.
Ingredients:
1 jar (1 lb. 2.2 oz.) turkey brine

1 fresh turkey, 18 to 20 lb., neck, heart and gizzard removed

1 jar (10 oz.) cider bourbon roasting glaze

3 Tbs. unsalted butter

2 shallots, finely diced

1 tsp. finely chopped fresh thyme

3 Tbs. all-purpose flour

2 cups turkey stock, lightly salted, or low-sodium chicken broth

1 Tbs. chicken demi-glace

2 Tbs. dry sherry

Kosher salt and freshly ground pepper, to taste
Directions:
Prepare the turkey brine according to the package instructions. Place the turkey in a brining bag or large stockpot, add the brine and refrigerate for 12 to 36 hours.

Remove the turkey from the brine; discard the brine. Rinse the turkey inside and out with cold water and pat dry with paper towels. Tuck the wings behind the back and place the turkey, breast side up, on a rack in a large roasting pan. Let stand at room temperature for 1 hour.

Position a rack in the lower third of an oven and preheat to 400°F.

Roast the turkey for 30 minutes, then reduce the oven temperature to 325°F. Continue roasting until an instant-read thermometer inserted into the thickest part of the breast, away from the bone, registers 165°F and into the thigh registers 175°F, about 2 hours and 35 minutes more. If the skin begins to brown too quickly, tent the turkey with aluminum foil. During the last 30 minutes of cooking, baste the turkey with the roasting glaze every 10 minutes.

Transfer the turkey to a carving board, cover loosely with foil and let rest for about 30 minutes before carving. Skim the fat off the pan drippings. Add 3/4 cup water to the roasting pan and set over medium heat. Boil for 2 to 3 minutes, scraping up the browned bits. Transfer to a bowl.

In a small sauté pan over medium heat, melt the butter. Add the shallots and thyme and cook for 5 minutes. Add the flour and cook, stirring rapidly, for 2 minutes. Rapidly whisk in the reserved pan drippings, the stock and demi-glace. Cook, stirring constantly, until the gravy is thickened, 2 to 3 minutes. Stir in the sherry and season with salt and pepper. Pour the gravy into a warmed sauceboat and serve with the turkey. Serves 14 to 16.