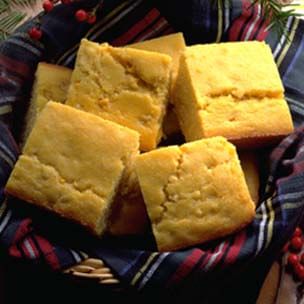 Chipotle Corn Bread with Cheddar Cheese and Green Onions
This corn bread gets a lively kick from chipotle chilies, which are dried, smoked jalapeños. Dark brown in color with a wrinkled skin, they are packed with an appealing smoky flavor and lots of heat.
Ingredients:
3/4 cup cornmeal

1 cup all-purpose flour

3 tsp. baking powder

1/2 tsp. salt

1/4 cup sugar

1 egg

1 cup milk

2 Tbs. unsalted butter, melted

2 Tbs. chopped chipotle chilies

1/3 cup sliced green onion tops

1/2 cup grated cheddar cheese
Directions:
Preheat an oven to 425ºF. Butter a 9-by-5-inch loaf pan.

In a large bowl, combine the cornmeal, flour, baking powder, salt and sugar and stir to mix. Make a well in the center.

In another bowl, combine the egg and milk and whisk until just blended, about 10 seconds. Add the butter, chipotle chilies, green onions and cheese and whisk until smooth. Pour the egg mixture into the well in the flour mixture and fold gently until the batter is just blended.

Spoon the batter into the prepared pan and bake until a toothpick inserted into the center of the corn bread comes out clean, 18 to 20 minutes.
Serves 8.