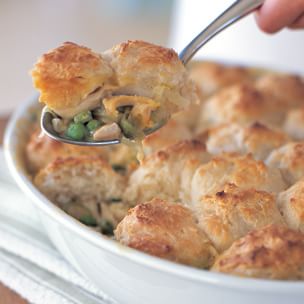 Chicken & Leek Pie
For a topping alternative, use thawed purchased puff pastry dough. Preheat an oven to 425ºF and lay the dough on top of the filling in the dish. Trim the dough around the dish, leaving a 1-inch overhang. Fold the overhang back over itself and press it into the sides of the dish to make a sturdy rim. Prick the dough with a fork to create steam vents and bake until golden brown.
Ingredients:
9 Tbs. unsalted butter

2 large leeks, white and light green portions, thinly sliced

1/2 tsp. salt, plus more, to taste

Freshly ground pepper, to taste

2 1/3 cups all-purpose flour

1/4 cup dry white wine

4 cups chicken broth

4 cups shredded cooked chicken, homemade or purchased

1 cup baby peas

4 tsp. baking powder

1 1/2 cups milk
Directions:
Prepare the filling
Preheat an oven to 375ºF.

In a large ovenproof fry pan over medium-high heat, melt 4 Tbs. of the butter. Add the leeks, season with salt and pepper, and sauté until softened, about 5 minutes. Add 1/3 cup of the flour and cook, stirring, for 2 minutes. Stir in the wine and broth and bring to a boil. Reduce the heat to low and simmer, stirring occasionally, until the liquid thickens slightly, about 5 minutes. Stir in the chicken and peas, and season with salt and pepper.

Make the topping and bake the pie
In a bowl, combine the remaining 2 cups flour, the baking powder and the 1/2 tsp. salt. Using a pastry blender or 2 knives, cut in the remaining 5 Tbs. butter until the mixture forms coarse crumbs about the size of peas. Add the milk and, using a rubber spatula, stir until evenly moistened. Place heaping spoonfuls of the batter evenly over the chicken filling.

Bake until the topping is golden brown and the filling is bubbling, about 25 minutes. Serves 4 to 6.

Adapted from Williams-Sonoma Food Made Fast Series, One Pot, by Carrolyn Carreño (Oxmoor House, 2008).