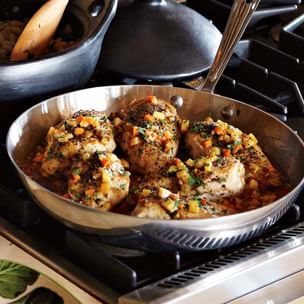 Chicken Breasts with Glazed Root Vegetables
In this recipe, boneless chicken breasts are pan-roasted until tender. Then diced carrots, parsnips and turnips are cooked in the same pan along with butter, demi-glace, honey and chicken broth, which form a delicious glaze. To round out the meal, serve our Braised Cannellini Beans with Kale.
Ingredients:
4 boneless, skin-on chicken breast halves, each 7 to 8 oz.


Kosher salt and freshly ground pepper, to taste

1 Tbs. vegetable oil

1 Tbs. unsalted butter

2 carrots, peeled and diced

2 parsnips, peeled and diced

1 turnip, peeled and diced

1 tsp. minced garlic

1 Tbs. chicken demi-glace

1 tsp. chopped fresh thyme


1 Tbs. honey

1/4 cup chicken broth

1 Tbs. chopped fresh flat-leaf parsley

Directions:
Season the chicken on both sides with salt and pepper. In an 11-inch French skillet over medium-high heat, warm the oil until almost smoking. Add the chicken, skin side down, and cook until the skin is crisp and golden brown, about 5 minutes. Turn the chicken over and reduce the heat to medium. Cover and cook until an instant-read thermometer inserted into the thickest part of the chicken registers 160°F, about 8 minutes. Transfer the chicken to a plate and cover loosely with aluminum foil.

In the same pan over medium-high heat, melt the butter. Add the carrots, parsnips and turnip and cook, stirring occasionally, until lightly browned, about 5 minutes. Add the garlic and cook, stirring constantly, for 30 seconds. Reduce the heat to medium-low and add the demi-glace, thyme, honey and broth, stirring until the demi-glace is dissolved. Cover and cook, stirring occasionally, until the vegetables are tender, 7 to 8 minutes. Uncover the pan, increase the heat to medium-high, and cook until the excess liquid is evaporated and the vegetables are glazed, 1 to 2 minutes more.

Remove the pan from the heat. Stir in the parsley and season with salt and pepper. Serve the chicken with the root vegetables alongside. Serves 4.

Williams-Sonoma Kitchen.