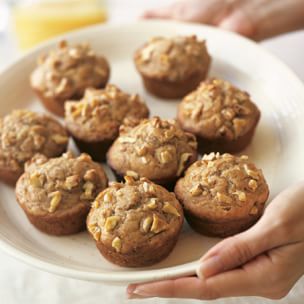 Banana-Buttermilk Muffins
Buttermilk is low in fat and, although its unique tang is barely discernible in baked goods, it contributes to a tender, light crumb. The combination of a delicate texture, moist banana flavor and crunchy walnuts will make this a favorite muffin recipe. Be sure to mash the bananas well with a fork to avoid lumps in the batter.
Ingredients:
1 cup unbleached all-purpose flour

3/4 cup whole-wheat flour

1/2 cup sugar

2 tsp. baking powder

1 tsp. baking soda

1 cup low-fat buttermilk

1 cup well-mashed ripe banana

2 Tbs. canola oil

1 egg

1 tsp. vanilla extract

1/2 cup chopped walnuts
Directions:
Preheat an oven to 375°F. Spray 12 standard muffin cups with canola-oil cooking spray, or use paper liners.

In a large bowl, stir together the all-purpose and whole-wheat flours, sugar, baking powder and baking soda.

In another bowl or a large, glass measuring pitcher, whisk together the buttermilk, banana, oil, egg and vanilla. Pour the wet ingredients over the dry ingredients and stir just until blended. Do not overmix. Spoon the batter into the prepared muffin cups, filling each about three-fourths full. Sprinkle the tops evenly with the walnuts.

Bake the muffins until they are lightly browned and a toothpick inserted in the center of a muffin comes out clean, 15 to 20 minutes. Let cool in the pan on a wire rack for 15 minutes, then turn out onto the rack and let cool completely. The muffins will keep in a zippered plastic bag at room temperature for 2 or 3 days, or in the freezer for up to 2 months. Makes 12 muffins.

Adapted from Williams-Sonoma, Essentials of Healthful Cooking, by Mary Abbott Hess, Dana Jacobi & Marie Simmons (Oxmoor House, 2003).