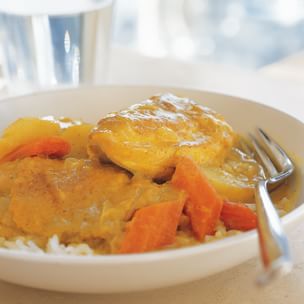 Yellow Chicken Curry
For a quicker version of this curry, substitute a purchased rotisserie chicken, cut into pieces. Starting with the second step, proceed with the recipe as directed for making the curry, simmering the potatoes and carrots in the curry until tender, about 40 minutes. During the last 10 minutes of cooking, add the chicken pieces.
Ingredients:
2 lb. chicken breasts and/or thighs

2 tsp. salt

2 Tbs. corn or peanut oil

1 yellow onion, chopped

1 Tbs. minced fresh ginger

3 garlic cloves, minced

1 1/2 Tbs. curry powder

1 can (13 1/2 fl oz.) coconut milk, well shaken

1/2 cup water

Juice of 1 lemon

2 large boiling potatoes, peeled and cut into large cubes

2 carrots, peeled and cut into large pieces

Steamed rice for serving
Directions:
Brown the chicken
Sprinkle the chicken pieces evenly with 1 tsp. of the salt. Warm a Dutch oven or large ovenproof fry pan over high heat until very hot and pour in the oil. Add the chicken, skin side down, and sear until crisp and brown, 5 to 6 minutes. Turn the pieces over and sear on the other side, 5 to 6 minutes more. Using tongs or a slotted spoon, transfer the chicken to a plate.

Make the curry
Preheat an oven to 325°F.

Return the pan to high heat, add the onion, ginger and garlic and sauté until just tender, about 2 minutes. Stir in the curry powder and sauté for 10 seconds. Add the coconut milk, water, lemon juice and the remaining 1 tsp. salt. Bring to a boil, return the chicken pieces to the pan and simmer for 2 minutes. Cover tightly, transfer to the oven and cook for 30 minutes.

Remove the pan from the oven and stir in the potatoes and carrots. Re-cover the pan, return it to the oven, and continue to cook until the potatoes and carrots are tender, about 30 minutes more. Uncover and cook for 10 minutes more to allow the curry to thicken. Serve immediately with steamed rice. Serves 4.

Adapted from Williams-Sonoma Food Made Fast Series, Asian, by Farina Wong Kingsley (Oxmoor House, 2007).