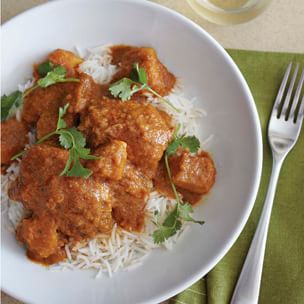 Vindaloo-Spiced Chicken Thighs with Coconut-Tomato Stew
Curry vindaloo, a mildly hot seasoning blend, adds layers of complex flavor to this chicken dish, created for us by Chef Michael Voltaggio. For ease of preparation, the ingredients are browned and then slow-cooked in a single vessel, the Cuisinart multicooker.
Ingredients:
8 boneless, skinless chicken thighs

1 tsp. plus 2 Tbs. curry vindaloo

1 tsp. plus 1 Tbs. kosher salt

2 yellow onions, diced (about 2 cups)

1 large tomato, diced (about 1 1/2 cups)

4 garlic cloves

1 Tbs. minced fresh ginger

1/4 cup vegetable oil

1 1/2 lb. russet potatoes, peeled and cut into large dice (about 2 cups)

1 Tbs. tomato paste

1/4 cup Champagne vinegar

1 Tbs. firmly packed light brown sugar

1 Tbs. honey

Juice of 3 limes

1 cinnamon stick

1 cup coconut milk

Steamed basmati rice for serving

1/4 cup fresh cilantro leaves
Directions:
Place the chicken thighs in a bowl and season with the 1 tsp. curry vindaloo and the 1 tsp. salt. Fold each thigh in half and skewer 4 thighs onto each of two 10-inch bamboo skewers; make sure the folded sides are uniform and face the same direction.

Preheat a Cuisinart multicooker on the brown/sauté setting to 375°F according to the manufacturer's instructions.

Put the onions, tomato, garlic and ginger in a bowl. Using an immersion blender fitted with the mincing blade, blend until a chunky paste forms. Set aside.

Warm the oil in the multicooker. Add the chicken skewers, folded side down, and brown for 4 minutes per side. Transfer to a plate.

Add the potatoes to the multicooker and cook, stirring occasionally, until they are starting to brown, about 5 minutes. Add the tomato paste, the 2 Tbs. curry vindaloo and the onion mixture. Cook, stirring occasionally, until the mixture begins to caramelize slightly, about 2 minutes. Stir in the vinegar, brown sugar, honey, lime juice, cinnamon stick, coconut milk and the 1 Tbs. salt.

Place the chicken skewers lengthwise in the multicooker. Cover and set the multicooker on the slow-cook high setting for 1 hour. Using tongs, remove the chicken skewers from the multicooker and place 2 thighs on each of 4 plates. Spoon the sauce and potatoes on and around the chicken and serve immediately with steamed rice. Garnish with cilantro leaves. Serves 4.

Recipe by Chef Michael Voltaggio.