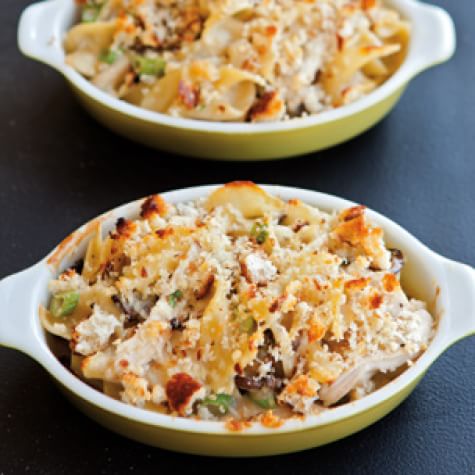 Turkey Tetrazzini
This retro casserole uses up leftover turkey in a tangle of egg noodles, button mushrooms and cheesy sauce—with delicious results. Baked in one pan, or divided into individual ramekins, it's sure to become an annual post-holiday tradition. Use both white and dark turkey meat, as the dark meat will add moisture.
Ingredients:
Olive oil for greasing


7 Tbs. unsalted butter

2 shallots, minced

1/2 lb. button mushrooms, sliced

1/3 cup all-purpose flour

3 cups chicken broth

1 tsp. salt


1/2 tsp. freshly ground white pepper

3 cups shredded cooked turkey

1/2 lb. egg noodles, cooked according to package instructions

3/4 cup grated Parmigiano-Reggiano cheese

2 green onions, white and light green portions, chopped

1 cup fresh bread crumbs
Directions:
Preheat an oven to 450°F. Oil a 9-by-13-inch baking dish or 6 individual ramekins or baking dishes.

In a large fry pan over medium-high heat, melt 2 Tbs. of the butter. Add the shallots and mushrooms and sauté until the mushrooms begin to brown, about 5 minutes. Transfer to a large bowl.

In the same pan over medium-high heat, melt 4 Tbs. of the butter. Add the flour and cook, stirring constantly, for 2 minutes. Add the broth and bring to a boil. Cook, stirring frequently, until the sauce thickens, about 4 minutes. Stir in the salt and white pepper. Pour the sauce into the bowl with the mushrooms and add the turkey, cooked noodles, 1/2 cup of the cheese and the green onions and stir to combine.

In a small bowl, stir together the bread crumbs and the remaining 1/4 cup cheese.

Transfer the turkey mixture to the prepared baking dish(es). Sprinkle evenly with the bread crumb mixture. Using your fingers, break the remaining 1 Tbs. butter into small pieces and sprinkle over the top.

Bake until the tetrazzini is bubbly around the edges and the bread crumbs are golden brown, about 15 minutes. Serve immediately. Serves 6 to 8.

Adapted from Williams-Sonoma One Pot of the Day, by Kate McMillan (Weldon Owen, 2012).