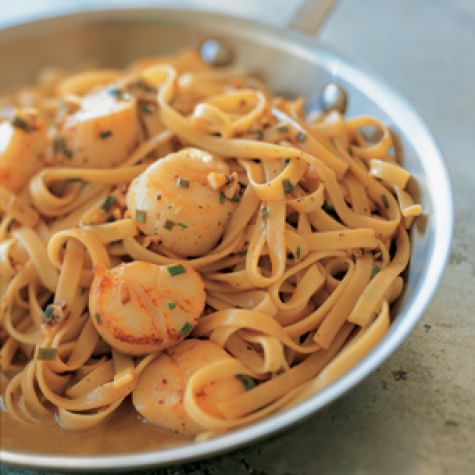 Tagliatelle with Scallops
Tagliatelle with Scallops
is rated out of
5
by
1
.
Whenever you have leftover day-old bread, preferably a baguette or rustic white loaf, cut it into slices, place on a baking sheet and dry out the slices in a preheated 300°F oven for about 10 minutes. Process the toasted bread in a food processor to make crumbs. Store the crumbs in an airtight container in the freezer for up to 4 months.
Ingredients:
2 lemons

1 1/2 lb. bay or sea scallops, rinsed and patted dry

1/2 tsp. plus 2 Tbs. salt, plus more, to taste

1/2 tsp. freshly ground pepper, plus more, to taste

8 Tbs. (1 stick) unsalted butter, at room temperature

2 Tbs. olive oil

4 garlic cloves, minced

2/3 cup dry white wine

1 lb. tagliatelle or linguine

1/4 cup finely snipped fresh chives

3 Tbs. fresh bread crumbs, lightly toasted
Directions:
Make the sauce
Grate 1 Tbs. zest and squeeze 1/3 cup juice from the lemons; set aside. Season the scallops with salt and pepper.

In a large fry pan over medium heat, melt 4 Tbs. of the butter with the olive oil. Add the garlic and sauté until fragrant, about 2 minutes. Add the scallops and cook, turning once, until golden, about 2 minutes per side. Add the lemon juice and wine and cook until most of the alcohol has evaporated, about 1 minute. Add the 1/2 tsp. salt and the 1/2 tsp. pepper and toss. Add the remaining 4 Tbs. butter and the lemon zest and toss to combine. Set aside.

Cook the pasta
Meanwhile, bring a large pot of water to a boil over high heat. Add the 2 Tbs. salt and the pasta and cook, stirring occasionally to prevent sticking, until al dente, according to the package instructions. Drain, reserving about 1/2 cup of the cooking water.

Add the pasta to the sauce. Add as much of the cooking water as needed to loosen the sauce, along with the chives and bread crumbs. Toss to combine and serve immediately. Serves 4.

Adapted from Williams-Sonoma Food Made Fast Series, Pasta, by Julia della Croce (Oxmoor House, 2006).
Rated

5

out of

5
by
wysarah
from
EXCELLENT!
I was a little skeptical of this recipe to begin with - and all our little town has is frozen scallops - but this turned out great. I cut the amount of butter used in half and didn't feel that it impacted the recipe at all. It has a strong lemon flavor, so avoid if you don't like lemons. Otherwise, this dish is refreshing and easy to make. It was a huge hit and we ate every last bite!
Date published: 2013-04-20