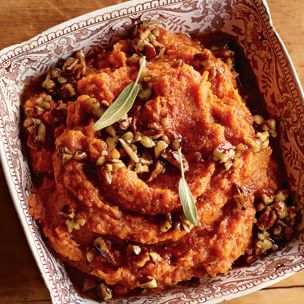 Sweet Potato Mash
Melted butter seasoned with fresh sage, ground cinnamon, grated nutmeg and brown sugar give a flavor boost to these mashed sweet potatoes. Drizzle with the maple-pecan topping for a sweet crunch.
Ingredients:
3 1/2 lb. sweet potatoes, peeled and cut into 2-inch pieces

6 Tbs. (3/4 stick) unsalted butter

1 Tbs. thinly sliced fresh sage

1/2 tsp. ground cinnamon

1/8 tsp. freshly grated nutmeg

3 Tbs. firmly packed light brown sugar

Kosher salt and freshly ground pepper, to taste

1/2 cup maple syrup

1/2 cup toasted chopped pecans
Directions:
Place the sweet potatoes in a large pot, add water to cover by 3 inches and bring to a boil over medium-high heat. Reduce the heat to medium-low and gently cook the potatoes until they are tender when pierced with a fork, 15 to 20 minutes. Drain well in a colander. 



Fit a food mill with the disk with the smallest holes, set over the pot and pass the sweet potatoes through in batches.

In a small saucepan over medium heat, melt the butter. Add the sage, cinnamon, nutmeg and brown sugar and cook, stirring constantly, for 1 minute. Pour the butter mixture over the sweet potatoes, season with salt and pepper, and stir until incorporated. Transfer the sweet potatoes to a serving bowl and cover loosely with aluminum foil.

In another small saucepan over medium heat, combine the maple syrup and pecans and heat until just warmed through. Transfer to a small serving bowl. Serve the mashed sweet potatoes immediately and pass the maple-pecan drizzle alongside. Serves 6 to 8.

Williams-Sonoma Kitchen.