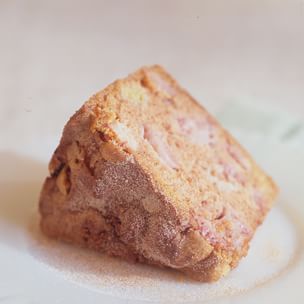 Strawberry-Rhubarb Breakfast Cake
Fresh field-grown rhubarb is sold in long, crisp, red or pale pink stalks in the late spring and early summer. Hot house-grown rhubarb is available year-round in some regions. Before the crop reaches market, the leaves are trimmed from the stalks and discarded since they contain high amounts of toxic oxalic acid. Although tart rhubarb is technically a vegetable, it is cooked and sweetened like a fruit. Combining rhubarb with strawberries is a popular pairing. The flavors are pleasantly contrasting, and the berries help sweeten the rhubarb.
Ingredients:
For the topping:
2 Tbs. sugar

1/2 tsp. ground cinnamon
For the cake:
4 eggs

1 1/3 cups sugar

3/4 cup canola oil or walnut oil

3 cups all-purpose flour

2 tsp. baking soda

1 tsp. baking powder

2 tsp. ground cinnamon

1 tsp. ground mace

1 tsp. salt

4 cups fresh strawberries, hulled and coarsely chopped

1 or 2 fresh rhubarb stalks, 4 oz. total, cut crosswise into 1/2-inch slices, or 1 cup thawed frozen sliced rhubarb
Directions:
Preheat an oven to 350°F. Grease a 9-inch angel food cake pan with a removable bottom.

To make the topping, in a small bowl, stir together the sugar and cinnamon. Set aside.

To make the cake, in a large bowl, using an electric mixer, beat the eggs and sugar on medium-high speed for about 1 minute. Add the oil, increase the speed to high and beat until thick and pale, about 2 minutes.

In another bowl, stir together the flour, baking soda, baking powder, cinnamon, mace and salt. Add the egg mixture and, using the mixer on low speed or a wooden spoon, beat until thoroughly blended, about 1 minute. Add the strawberries (and their juices, if any) along with the rhubarb. Using a large rubber spatula, gently fold in just until evenly distributed. Take care not to break up the fruit. Do not overmix.

Spoon the batter into the prepared pan and spread evenly. Sprinkle evenly with the topping.

Bake until the topping is golden brown and a toothpick inserted into the center of the cake comes out clean, 60 to 70 minutes. Run a knife between the cake and the sides of the pan, and lift up the center tube to separate the cake from the pan sides. Place on a wire rack to cool completely. Run a knife under the bottom and around the sides of the tube and invert the cake to remove the tube, then place the cake upright on a serving plate. Makes one 9-inch tube cake.