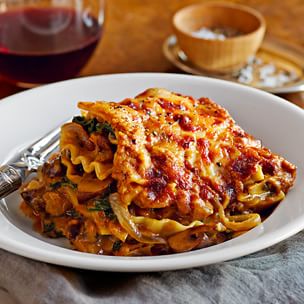 Slow-Cooker Vegetable and Pumpkin Lasagna
When it comes to serving a crowd, there's nothing like lasagna. This festive fall version is a snap to prepare, thanks to our pumpkin pasta sauce. Round out the meal with a tossed green salad and crusty bread.
Ingredients:
2 jars (each 24 oz.) pumpkin Parmesan pasta sauce

2 cups water

4 Tbs. olive oil

1 lb. spinach

2 small yellow onions, thinly sliced

2 lb. cremini mushrooms, quartered

Kosher salt and freshly ground pepper, to taste

15 ruffle-edged lasagna noodles (not no-boil noodles)

2 cups béchamel sauce
1 1/4 lb. mozzarella cheese, grated

1 oz. Parmigiano-Reggiano cheese, finely grated

Directions:
In a bowl, whisk together the pasta sauce and water. Set aside.

In the stovetop-safe insert of a slow cooker over medium heat, warm 1 Tbs. of the olive oil. Add the spinach, cover with the lid and cook, stirring occasionally, until the spinach is wilted, 3 to 4 minutes. Transfer the spinach to a colander and press out the moisture.

Wipe out the insert with paper towels. Set the insert over medium heat and warm 1 Tbs. of the olive oil. Add the onions and cook, stirring occasionally, until browned and tender, about 15 minutes. Transfer to a bowl. Add 1 Tbs. of the olive oil to the insert, increase the heat to medium-high and add half of the mushrooms. Cook, stirring occasionally, until browned, 8 to 10 minutes. Add the mushrooms to the bowl with the onions. Repeat with the remaining 1 Tbs. olive oil and mushrooms. Add the spinach to the same bowl and stir well. Season with salt and pepper.

Wipe out the insert. Spread a thin layer of the pumpkin sauce on the bottom of the insert. Cover the sauce with a single layer of uncooked lasagna noodles (about 3), breaking them as needed to fit. Top with about 1 1/2 cups pumpkin sauce, 1/2 cup béchamel and one-fourth of the vegetable mixture. Sprinkle with about 1 cup mozzarella. Repeat the layering 3 more times, starting with the noodles. Top with the remaining noodles, pumpkin sauce, mozzarella and Parmigiano-Reggiano.

Transfer the insert to the slow-cooker base. Cover and cook on low according to the manufacturer's instructions until the noodles are tender and cooked through, about 4 hours. Let the lasagna rest for 20 minutes before serving. Serves 12.

Williams-Sonoma Kitchen.