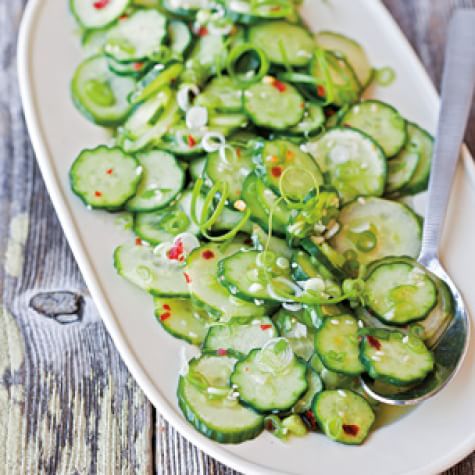 Sesame-Cucumber Salad
Don't skimp on the chilling time for this pretty green salad; part of its charm comes from the cool, juicy texture of the marinated cucumbers. Let the sweet-tart interplay of the vinegar and sugar really sink in.
Ingredients:
4 English cucumbers

3/4 tsp. salt

1 Tbs. sugar

1/2 cup rice vinegar

3 garlic cloves, minced

Scant 1 tsp. red chili flakes

1 Tbs. sesame seeds

6 green onions
Directions:
Thinly slice the cucumbers crosswise. In a large bowl, combine the cucumbers, salt and sugar and toss to coat the cucumbers evenly. Let stand for 30 minutes. Transfer to a colander, rinse and drain well, then press out the excess moisture with your hands.

In a serving bowl, stir together the vinegar, garlic, chili flakes and sesame seeds. Add the cucumbers and toss to coat. Thinly slice the green onions, including the tender green portions, and sprinkle them over the top. Cover the salad and refrigerate until well chilled, at least 2 hours or up to overnight. Serve the salad cold. Serves 4 to 6.

Adapted from Williams-Sonoma Salad of the Day, by Georgeanne Brennan (Weldon Owen, 2012).