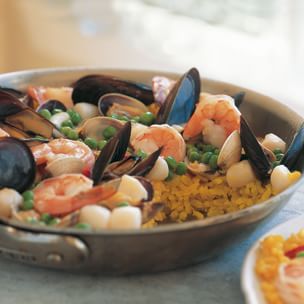 Seafood Paella
This version of the classic Spanish rice dish known as paella is prepared with a variety of seafood. Saffron imparts a golden hue to the rice.
Ingredients:
3 cups chicken broth or fish stock

2 Tbs. olive oil

1 yellow onion, chopped

2 garlic cloves, sliced

1 cup paella or Arborio rice

1/2 tsp. saffron threads

1 1/2 tsp. salt

2 roasted red bell peppers, cut into wide strips

18 mussels and/or small clams, scrubbed and debearded if necessary

3/4 lb. shrimp, peeled and deveined

5 oz. bay scallops

1 cup frozen peas, thawed
Directions:
Cook the onion and rice
Position a rack in the lower third of an oven and preheat to 400°F.

In a saucepan over medium heat, bring the broth to a simmer. In an ovenproof 12-inch fry pan or a paella pan over medium-low heat, warm the olive oil. Add the onion and garlic and sauté until the onion is soft but not browned, about 5 minutes. Add the rice, crumble in the saffron and cook, stirring, until all the grains are well coated, about 2 minutes. Pour all but 1/2 cup of the warm broth into the pan and stir in the salt. Bring to a boil, spread the rice in an even layer, arrange the pepper strips on top and transfer the pan to the lowest rack of the oven. Cook until the rice has absorbed nearly all of the liquid, about 20 minutes.

Cook the shellfish
Meanwhile, add the mussels to the saucepan with the remaining broth, discarding any that do not close to the touch. Cover, bring to a boil and cook, shaking the pan occasionally, until the mussels open, about 2 minutes. Using a slotted spoon, transfer the mussels to a bowl, discarding any that have failed to open. Add the shrimp to the pan, remove from the heat and let stand until opaque. Add the scallops and set the pan aside.

Finish the paella
Press the mussels, hinge side down, into the rice. Using the slotted spoon, spread the shrimp and scallops over the rice. Scatter the peas over all. Pour the liquid from the saucepan over the rice and bake for 10 minutes more. Let stand for 5 to 10 minutes before serving. Serves 4.

Adapted from Williams-Sonoma Food Made Fast Series, Seafood, by Jay Harlow (Oxmoor House, 2007).