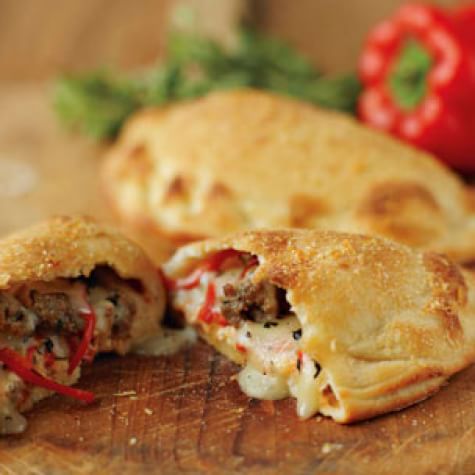 Sausage & Red Pepper Calzones
Filled with a variety of meats, vegetables and cheeses, calzones are a centuries-old tradition in southern Italy. These savory pies are easy to prepare using our specially designed mold.
Ingredients:
2 tsp. active dry yeast

1 tsp. sugar

1 cup warm water (110°F)

2 cups bread flour, plus more as needed

1 1/2 tsp. salt

6 Tbs. olive oil

7 oz. mild Italian sausage

1/4 yellow onion, sliced

1 large red bell pepper, seeded and thinly sliced

2 garlic cloves, thinly sliced

1 tsp. minced fresh oregano

3 oz. ricotta cheese

12 oz. mozzarella cheese, grated

6 Tbs. tomato sauce

Semolina flour for dusting

6 Tbs. grated Parmigiano-Reggiano cheese
Directions:
In a small bowl, stir together the yeast, sugar and warm water. Let stand for 5 minutes.

In the bowl of a food processor, combine the 2 cups bread flour, the salt and yeast mixture. Slowly drizzle in 1 Tbs. of the olive oil and process for about 3 minutes. The dough should come together into a large ball and pull away from the sides of the bowl; it should be moist but not sticky.

Transfer the dough to a bowl and cover with plastic wrap. Let stand at room temperature until the dough is doubled in size, about 1 hour.

Place a pizza stone on the middle rack of an oven and preheat the oven to 500ºF.

In a 10-inch fry pan over medium heat, warm 1 Tbs. of the olive oil. Add the sausage, breaking it into small chunks, and cook until browned and cooked through, about 8 minutes. Drain on paper towels.

Wipe out the pan, set over medium heat and warm 1 Tbs. of the olive oil. Add the onion and cook, stirring occasionally, for 2 minutes, then add the bell pepper and garlic. Cook, stirring occasionally, until the vegetables are tender and beginning to brown, about 15 minutes. Transfer the vegetables to a large bowl, add the sausage, oregano, ricotta, mozzarella and tomato sauce and stir to combine.

Punch down the dough, divide it into 6 equal pieces and roll each into a ball. Using extra bread flour if the dough is too sticky, roll out 1 ball of dough into an 8-inch round; use the open calzone mold as a guide (the dough round should be about 1/2 inch wider than the mold). Place the dough on the mold. Place 1/3 cup filling on one side of the dough, then close the mold, pressing the dough down firmly. Gently remove the calzone from the mold, place on a baking sheet dusted with semolina flour and refrigerate. Repeat to make 5 more calzones. Brush the top of each calzone with 1/2 Tbs. olive oil, then dust each with 1 Tbs. Parmigiano-Reggiano cheese.

Transfer 3 calzones to a pizza peel dusted with semolina flour, then carefully slide them onto the preheated pizza stone and bake for 10 to 12 minutes. Remove the calzones from the oven and let cool for 5 minutes before serving. Repeat with the remaining calzones. Makes 6 calzones.