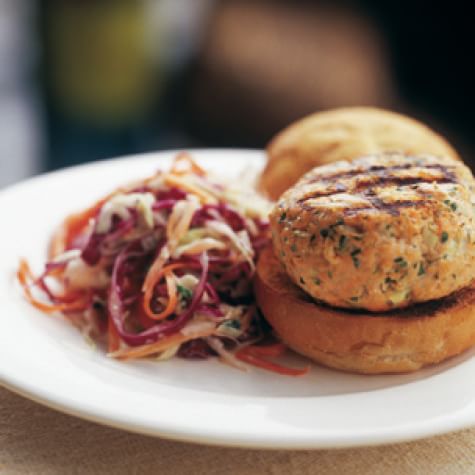 Salmon Burgers with Vegetable Slaw
Salmon is among the most prized of all fish, found wild in both the Atlantic and Pacific oceans and in many lakes, and now farmed as well. To grind it for this recipe, cut it into chunks and pulse it in a food processor until ground, taking care not to overprocess. Or ask your fishmonger to grind it for you.
Ingredients:
For the vegetable slaw:
6 cups finely shredded mixed green and
red cabbage

2 carrots, shredded

1 red bell pepper, seeded and chopped

3 green onions, both white and tender
green portions, chopped

1 cup mayonnaise

1/4 cup cider vinegar

2 Tbs. sugar

2 garlic cloves, minced

1 tsp. whole-grain mustard

Salt and freshly ground pepper, to taste

1/2 cup pine nuts



1 1/2 to 2 lb. salmon fillet, ground

1 cup fine dried bread crumbs

1 small cucumber, peeled, seeded and chopped

4 large shallots, chopped

1/2 cup chopped fresh flat-leaf parsley

6 onion rolls, split
Directions:
To make the vegetable slaw, in a large bowl, toss together the cabbage, carrots, bell pepper and green onions. In a small bowl, stir together the mayonnaise, vinegar, sugar, garlic and mustard to make a dressing. Add the dressing to the cabbage mixture and mix well. Season with salt and pepper. Cover and refrigerate for up to 3 hours. Just before serving, toast the pine nuts, add them to the salad and toss again lightly.

In a bowl, combine the salmon, bread crumbs, cucumber, shallots and parsley and mix lightly but thoroughly. Divide into 6 equal portions and shape each portion into a patty 3 inches in diameter and 3/4 to 1 inch thick. Place on a plate, cover and refrigerate until ready to grill.

Prepare a charcoal or gas grill for direct grilling over medium-high heat. Oil the grill rack or a flexible grill basket.

Arrange the salmon patties on the rack or in the basket over the hottest part of a charcoal fire or directly over the heat elements of a gas grill. Grill the patties, turning once, until cooked through when tested with a knife, 5 to 6 minutes per side. About 1 minute before the burgers are ready, place the onion roll halves, cut sides down, on an area of the grill with lower heat and toast lightly.

Place the bottoms of the onion rolls on individual plates. Top with the burgers and the tops of the rolls. Spoon the slaw on the side. Serve immediately. Serves 6.

Adapted from Williams-Sonoma, Essentials of Grilling, by Denis Kelly, Melanie Barnard, Barbara Grunes & Michael McLaughlin (Oxmoor House, 2003).