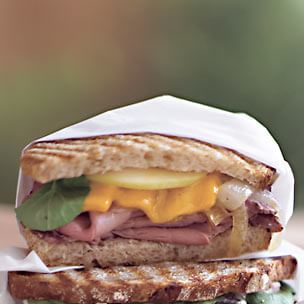 Roast Beef and Caramelized Onion Panini
With long, slow cooking, onions become meltingly sweet and caramelized, lending luscious flavor to our roast beef panini. This recipe for caramelized onions yields more than you will need for one panini. Use the rest to make additional sandwiches, stir into mashed potatoes or pasta, or use as a topping for pizza. The onions can be stored in an airtight container in the refrigerator for up to 1 week.
Ingredients:
3 Tbs. olive oil, plus more for brushing

2 large yellow onions, about 1 1/2 lb. total, halved
lengthwise and very thinly sliced

2 slices country-style bread, each 1/2 inch thick

2 Tbs. mayonnaise

2 thin slices roast beef

Salt and freshly ground pepper, to taste

1 slice aged cheddar cheese

4 thin slices Granny Smith apple
Directions:
In a large, heavy fry pan over medium heat, warm the 3 Tbs. olive oil. Add the onions, cover and cook, stirring occasionally, until they are completely limp, 10 to 15 minutes.

Uncover the pan, reduce the heat to medium-low and cook, stirring frequently, until the onions are golden brown and sweet, 35 to 45 minutes; do not allow them to burn.

Remove the pan from the heat and let the onions cool to room temperature. Set aside 1/4 cup of the onions for the panini; reserve the rest for another use.

Preheat an electric panini maker according to the manufacturer's instructions.

Brush one side of each bread slice with olive oil. Lay the slices, oiled side down, on a clean work surface. Spread the top of each slice with 1 Tbs. mayonnaise. Place the roast beef on one slice and season with salt and pepper. Top with the 1/4 cup caramelized onions, cheese and apple, and season with salt and pepper. Top with the other bread slice, oiled side up.

Place the sandwich on the preheated panini maker and cook according to the manufacturer's instructions until the bread is golden and the cheese is melted, 3 to 5 minutes.

Transfer the sandwich to a cutting board and cut in half. Serve immediately.
Serves 1.