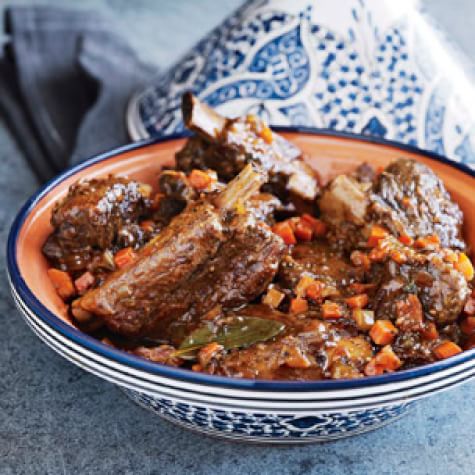 Red Wine-Braised Short Ribs
Cooked and served in a classic Moroccan vessel known as a tagine, this dish makes a dramatic presentation at the table. Accompany with mashed potatoes to soak up the flavorful sauce.
Ingredients:
3 Tbs. olive oil

3 3/4 lb. bone-in beef short ribs (6 to 8 pieces)

Kosher salt and freshly ground pepper, to taste

1 cup all-purpose flour

1 celery stalk, cut into 1/4-inch dice

2 carrots, cut into 1/4-inch dice

3/4 cup finely diced shallot

1 Tbs. minced garlic

3 Tbs. tomato paste

3/4 tsp. crushed Aleppo chili

1 bay leaf

1 tsp. chopped fresh thyme

1/2 cup beef broth

3/4 cup red wine

1 Tbs. finely chopped fresh flat-leaf parsley

Mashed potatoes for serving
Directions:
Soak a tagine according to the manufacturer's instructions. Place the tagine on a diffuser over medium-high heat and warm 1 Tbs. of the olive oil.

Season the short ribs on all sides with salt and pepper. Dredge the ribs in the flour until evenly coated, shaking off the excess. Add half of the ribs to the tagine and sear until well browned on all sides, about 10 minutes total; transfer to a plate. Repeat with 1 Tbs. of the olive oil and the remaining ribs.

Reduce the heat to medium and warm the remaining 1 Tbs. olive oil. Add the celery, carrots and shallot and cook, stirring occasionally, until softened and lightly browned, 7 to 8 minutes. Add the garlic and tomato paste and cook for 1 minute. Add the Aleppo chili, bay leaf, thyme, broth, wine, salt and pepper and bring to a simmer. Return the ribs to the tagine. Reduce the heat to medium-low, cover and cook, turning the ribs occasionally, until the meat is tender, 4 1/2 to 5 hours.

Garnish the ribs with the parsley and serve immediately with mashed potatoes. Serves 4.