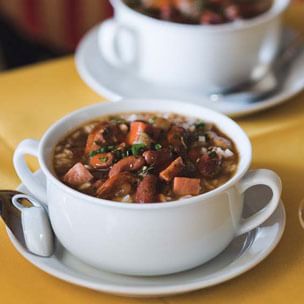 Red Beans & Rice
This beloved dish is said to have originated with African-American cooks on Louisiana plantations. It was often made on Mondays (laundry day) because the one-pot meal could be seasoned with Sunday's ham bone and left to simmer for hours. When the laundry was done, so was dinner.

Today, "red and white" is a New Orleans favorite that you will find everywhere, from home kitchens to fine restaurants, including Dooky Chase's, whose version we have adapted here. The use of a pressure cooker speeds the cooking process.
Ingredients:
2 Tbs. vegetable oil

1 lb. smoked sausage, cut into 1/2-inch slices

1 lb. smoked ham, cut into 1/2-inch cubes

1 yellow onion, diced

3 garlic cloves, minced

2 quarts water

1 lb. red kidney beans

1 bay leaf

2 Tbs. chopped fresh flat-leaf parsley

1 tsp. chopped fresh thyme

Salt and freshly ground pepper, to taste

Steamed white rice for serving

Hot sauce for serving
Directions:
In a sauté pan over medium-high heat, warm the oil. Add the sausage and ham and cook until browned, 5 to 10 minutes. Using a slotted spoon, transfer the sausage and ham to a plate.

Add the onion to the pan and cook, stirring occasionally, until soft and translucent, 5 to 8 minutes. Add the garlic and cook for 30 seconds. Transfer the onion mixture to a pressure cooker, stirring to scrape up the browned bits from the pan bottom. Add the water, beans, bay leaf, parsley, thyme, salt, pepper, sausage and ham to the pressure cooker and stir to combine. Cover and cook until the beans are soft, about 33 minutes. Release the pressure according to the manufacturer's instructions.

Remove the bay leaf and discard. Using the back of a spoon, mash some of the beans against the side of the cooker and stir to thicken the broth. Serve in individual bowls over rice. Garnish with a few drops of hot sauce. Serves 8 to 10.

Adapted from a recipe by Leah Chase, Chef/Owner, Dooky Chase's Restaurant, New Orleans.