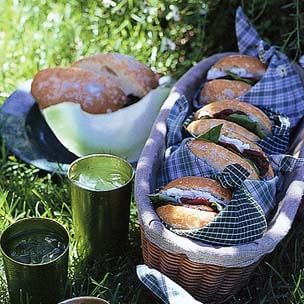 Portobello Mushroom and Goat Cheese Sandwiches
The meaty texture of portobello mushrooms combined with creamy goat cheese, sun-dried tomatoes and fresh basil makes a substantial sandwich. Marinating the mushrooms before grilling prevents them from drying out. The sandwiches can be served warm or chilled.
Ingredients:
1 cup plus 2 Tbs. olive oil

6 Tbs. aged balsamic vinegar

3 garlic cloves, minced

2 shallots, minced

Salt and freshly ground pepper, to taste

6 portobello mushrooms, about 1 1/2 lb.
&nbsp total, brushed clean and stems removed

6 round sourdough rolls, cut in half

1 1/2 cups crumbled goat cheese (chèvre)

12 oil-packed sun-dried tomatoes, drained and
&nbsp sliced in half

24 fresh basil leaves
Directions:
In a small bowl, whisk together the oil, vinegar, garlic, shallots, salt and pepper. Arrange the mushroom caps in a single layer in a shallow, nonreactive dish. Pour half of the marinade over the mushrooms and reserve the remainder. Cover and marinate at room temperature for 1 hour, turning after 30 minutes.

Prepare a fire in a grill. Lightly oil the grill rack. When the coals are hot, remove the mushrooms from the marinade, place on the grill rack and weight with a large fry pan. Grill the mushrooms until tender and seared on both sides, about 4 minutes total.

Drizzle about 1 Tbs. of the reserved marinade on each roll half. Place a mushroom on the bottom half of each roll. Sprinkle the top half with goat cheese, then cover with sun-dried tomatoes and basil leaves. Place the halves together. Secure each sandwich with toothpicks, cut in half and wrap in aluminum foil. Keep chilled until ready to serve.
Serves 6.