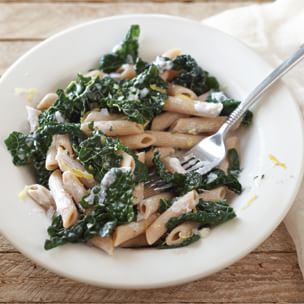 Penne with Ricotta Cheese and Greens
Cooking greens are abundant in spring. Here, Tuscan kale (also know as black kale) adds freshness to pasta. Fresh ricotta makes a satisfyingly easy sauce; look for it at Italian delis and upscale markets.
Ingredients:
Coarse kosher salt, to taste

1 bunch Tuscan kale or other hearty greens, thick stems trimmed, leaves cut crosswise into 2-inch pieces

6 to 8 oz. dried penne, preferably multigrain

2 Tbs. extra-virgin olive oil

2 tsp. minced fresh thyme

1 shallot, minced

1 tsp. grated lemon zest

1/2 cup grated Parmigiano-Reggiano cheese

1/2 cup fresh whole-milk ricotta cheese

Freshly ground pepper, to taste
Directions:
Bring a large pot three-fourths full of salted water to a boil over high heat. Add the kale or other greens and boil until the greens are just tender, 30 seconds to 6 minutes, depending on the variety of greens. Using a skimmer or a slotted spoon, transfer the greens to a colander and drain. Return the water in the pot to a boil, add the pasta, stir well and cook until al dente (tender but firm to the bite), about 10 minutes.

Scoop out 1 cup of the pasta cooking water and reserve. Drain the pasta in the same colander with the greens. Return the pasta to the pot, press on the greens to remove some of the excess water and add the greens to the pot. Add the olive oil, thyme, shallot and lemon zest and toss to coat. Mix in the Parmigiano-Reggiano and ricotta cheeses. If the mixture is dry, add enough of the reserved pasta cooking water to moisten. Season with salt and pepper.

Divide between warmed plates and serve immediately. Serves 2.

Quick Tips: This recipe can be easily doubled. Cooking the greens in the pasta water adds a touch of flavor and saves you from washing another pot. Avoid using mass-marketed ricotta cheese, as it has an inferior flavor and texture; you need the real thing for this sauce.

Adapted from Williams-Sonoma Weeknight Fresh & Fast, by Kristine Kidd (Williams-Sonoma, 2011).