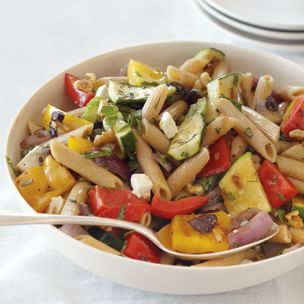 Pasta with Grilled Vegetables and Herbs
This meatless pasta dish shows that if you start with fresh ingredients, it takes very little work to make a stellar meal. Olives and feta cheese add richness and walnuts add crunch, but you can omit any of these if you wish.
Ingredients:
2 zucchini, cut lengthwise into thirds

1 red bell pepper, seeded and quartered

1 yellow bell pepper, seeded and quartered

1 large red onion, cut crosswise into slices 1/2 to 3/4 inch thick

Olive oil for brushing

Coarse kosher salt and freshly ground pepper, to taste

1/2 lb. penne, preferably multigrain

3 Tbs. extra-virgin olive oil

1/2 cup minced mixed fresh herbs, such as mint, basil, oregano and marjoram

1 small red chili, minced

1/4 cup finely chopped pitted Kalamata olives

1/4 cup finely chopped walnuts

1/2 cup finely chopped feta cheese or a small chunk of Romano cheese
Directions:
Prepare a hot fire in a grill.

Arrange the zucchini, bell peppers and onion in a single layer on a large rimmed baking sheet. Brush on both sides with olive oil and season with salt and pepper. Arrange the vegetables on the grill, cover the grill and cook, turning once, until tender and lightly browned, about 5 minutes per side. Remove from the grill and cut into 1-inch pieces.

Meanwhile, bring a large pot three-fourths full of salted water to a boil over high heat. Add the pasta, stir well and cook until al dente, about 11 minutes.

Drain the pasta and transfer to a warmed shallow serving bowl. Add the grilled vegetables, extra-virgin olive oil, mixed fresh herbs, chili, olives and walnuts and toss to combine. Season with salt and pepper. If using feta cheese, sprinkle it over the pasta and toss to combine. If using Romano cheese, allow diners to grate it over their own serving at the table. Serves 4.

Quick Tips: For vibrance, use a combination of herbs—mint, basil, oregano and marjoram. To simplify, use one or two herbs instead. For ease, replace the fresh chili with a pinch of red pepper flakes. Leftovers are satisfying another night; serve at room temperature, or rewarm in a saucepan over medium heat, stirring and adding water as needed to prevent sticking.

Adapted from Williams-Sonoma Weeknight Fresh & Fast, by Kristine Kidd (Williams-Sonoma, 2011).