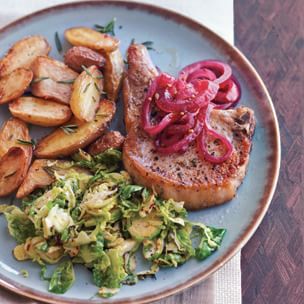 Panfried Pork Chops with Pickled Red Onions and Thyme
For particularly juicy results, brine the chops for 2 to 6 hours; if you do so, don't season them with salt before cooking. If using chops thicker than 3/4 inch, add 30 seconds extra cooking time per side for every 1/4 inch. Avoid buying chops thicker than 1 1/4 inches for this recipe.
Ingredients:
For the pickled red onions:
1 cup red wine vinegar

1 cup dry red wine

1/2 cup sugar

1 Tbs. yellow mustard seeds

2 Tbs. black peppercorns

2 tsp. red pepper flakes

2 Tbs. kosher salt

2 small or 1 large red onion, cut crosswise into rings 1/4 inch
thick

4 bone-in pork rib chops, each about 7 oz. and 3/4 inch thick

Kosher salt and freshly ground black pepper, to taste

1 1/2 Tbs. olive oil

2 small fresh thyme sprigs

1/2 tsp. minced fresh thyme
Directions:
To make the pickled onions, in a saucepan over low heat, combine the vinegar, wine, sugar, mustard seeds, peppercorns, red pepper flakes and salt. Stir until the sugar and salt have dissolved. Add the onion rings and bring the liquid to a boil, then reduce the heat and simmer for about 5 minutes. Let cool completely before serving. Alternatively, transfer the hot onions and liquid to a sterilized jar, cover tightly and refrigerate. Bring to room temperature before serving.

Remove the pork chops from the refrigerator and pat dry with paper towels. Let stand at room temperature for 30 minutes. Season the chops generously on both sides with salt and black pepper.

Preheat an oven to 170°F. Place a platter in the oven to warm.

Place a large fry pan over medium-high heat and add half of the olive oil and the thyme sprigs. When the oil is shimmering, add 2 chops and sear without moving them for 2 1/2 minutes. Turn the chops over and cook until golden and firm to the touch, about 2 1/2 minutes more. Transfer the chops to the platter and keep warm in the oven. Repeat with the remaining olive oil and chops.

Arrange the chops on individual plates and top with the pickled onions. Garnish with the minced thyme and serve immediately. Serves 4.

A note from the butcher: There's nothing like high heat to dry out an innocent pork chop. Don't use searingly hot heat and your chops will be extremely flavorful. Our rule is the thicker the cut, the lower the temperature. A good butcher will know how thick to cut your chops if you describe your recipe.

—Otto Demke, Gepperth's Meat Market, Chicago, IL

Adapted from Williams-Sonoma The Cook and The Butcher, by Brigit Binns (Weldon Owen, 2011).