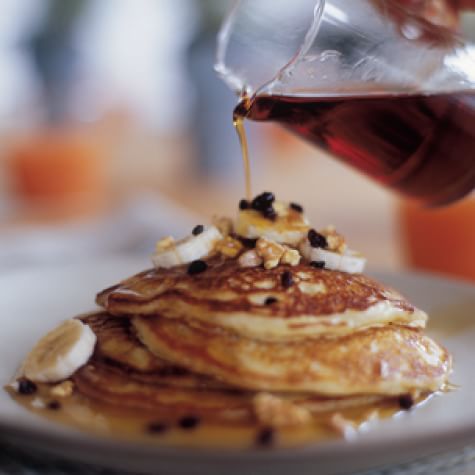 Oatmeal Pancakes
Rolled oats and buttermilk flavor these pancakes, which are a nice twist on the original. Other fresh and dried fruits and toasted nuts can be offered in place of what is suggested here. Sliced strawberries, chopped dried apples and almonds, for example, are a good combination.
Ingredients:
For the cinnamon butter:
8 Tbs. (1 stick) unsalted butter, at room temperature

2 tsp. ground cinnamon
For the pancakes:
1 cup all-purpose flour

1/2 cup cake flour

1/2 cup quick-cooking rolled oats

3 Tbs. sugar

2 tsp. baking powder

1 tsp. baking soda

1/4 tsp. salt

2 eggs

2 1/2 cups buttermilk

5 Tbs. unsalted butter, melted, plus more for cooking
For the toppings:
1 cup walnut pieces, toasted and chopped

2 bananas, peeled and thinly sliced

1/2 cup dried currants

2 cups maple syrup, heated
Directions:
To make the cinnamon butter, in a small bowl, using a wooden spoon, stir together the butter and cinnamon until the cinnamon is evenly distributed. Place the mixture on a piece of waxed paper and fold the paper over to cover the butter. Roll the butter back and forth inside the paper to form a log about 3 inches long by 1 inch in diameter. Twist the ends of the paper and place the log in the freezer for 10 minutes to harden, or refrigerate for up to 24 hours.

To make the pancakes, in a large bowl, whisk together the all-purpose flour, cake flour, oats, sugar, baking powder, baking soda and salt. In another bowl, whisk together the eggs, buttermilk and the 5 Tbs. melted butter until well combined. Add the egg mixture to the flour mixture and whisk until combined. Let the batter stand at room temperature for 10 minutes.

Preheat an oven to 200ºF.

Heat a nonstick fry pan or griddle over medium-high heat and brush lightly with butter. To form each pancake, fill a measuring pitcher with 1/3 cup of the batter and pour it onto the heated surface. It will spread into a round about 5 inches in diameter. Be careful not to crowd the pan. Cook until the edges are set and bubbles appear in the center of the pancake, about 2 minutes. Using a spatula, carefully flip the pancakes and cook on the other side until golden, about 1 minute more. Transfer the pancakes to a rimmed baking sheet and keep warm in the oven. Repeat with the remaining batter.

To serve, put the walnuts, bananas and currants in separate small serving bowls. Pour the maple syrup into a warmed pitcher. Cut the cinnamon butter into slices 1/4 inch thick and arrange on a small plate or saucer. Place all the toppings on the table. Transfer the pancakes to a warmed platter and place on the table. Let guest build and top their own stack of pancakes. Serves 6.