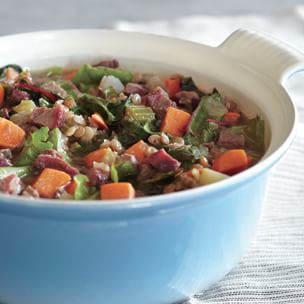 Lentil Stew with Smoked Turkey and Sweet Potatoes
Smoked turkey adds deep flavor to a simple lentil-based soup. Look for orange-fleshed sweet potatoes, sometimes labeled as yams, for their rich flavor. Greens add vivid color, nutrients and texture. Serve with whole-grain rolls.
Ingredients:
1 Tbs. olive oil


1 large yellow onion, finely chopped

3 celery ribs, finely chopped

3 tsp. minced fresh thyme


8 cups low-sodium chicken broth

1 lb. smoked turkey leg, deboned, skinned and diced (about 2 cups meat)

1 1/2 cups brown lentils, picked over and rinsed

1 1/4 lb. orange-fleshed sweet potatoes, peeled and cut into 1/2-inch cubes

1/2 bunch kale or chard, stems removed and leaves chopped

Coarse kosher salt and freshly ground pepper, to taste
Directions:
In a large, heavy saucepan over medium-high heat, warm the olive oil. Add the onion and celery and sauté until almost tender, about 5 minutes. Add 2 tsp. of the thyme and cook, stirring, until the onion is brown, about 4 minutes. Add the broth, turkey and lentils. Cover, increase the heat to high and bring to a boil. Uncover, reduce the heat to medium-low and simmer, stirring occasionally, until the lentils are almost tender, about 30 minutes.

Add the sweet potatoes to the pan and simmer until almost tender, about 12 minutes. Add the kale and simmer until wilted, about 3 minutes. Season the stew with salt and pepper. Stir in the remaining 1 tsp. thyme. Ladle the stew into warmed bowls and serve immediately. Serves 6.

Quick tips: The recipe makes a big pot of stew, and the flavors improve each time it is reheated. If it gets too thick, thin the stew with a little water. Smoked turkey can be replaced with smoked sausage, such as chicken or pork andouille or kielbasa. Or, for a meatless version, omit the turkey and use vegetable broth. Extra smoked turkey can be used as a sandwich filling, with sautéed potatoes, or as an addition to macaroni and cheese.

Adapted from Williams-Sonoma Weeknight Fresh & Fast, by Kristine Kidd (Williams-Sonoma, 2011).