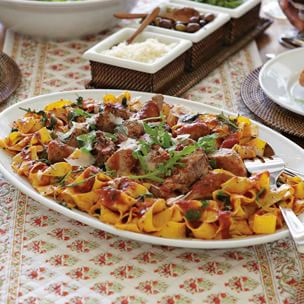 Italian-Style Braised Pork Shoulder and Sausages
This dish, which is easy to prepare using our Italian braising gravy, is great prepared a day in advance. Braise the meat and let it cool to room temperature, then cover and refrigerate. The next day, remove and discard the layer of fat on top and reheat the meat and sauce over medium-low heat until warmed through.
Ingredients:
3 1/2 lb. boneless pork shoulder roast

Kosher salt and freshly ground pepper, to taste

2 Tbs. vegetable oil

1 lb. sweet Italian sausage links

1 jar Italian braising gravy

12 oz. pappardelle, cooked until al dente and drained

1 oz. arugula

Shaved Parmigiano-Reggiano cheese for garnish

Extra-virgin olive oil for drizzling
Directions:
Season the pork on both sides with salt and pepper.

Preheat a Cuisinart multicooker on the brown/sauté setting to 400°F according to the manufacturer's instructions. Warm the oil in the multicooker until almost smoking. Add the pork and sausages and cook until browned on all sides, 8 to 10 minutes. Add the Italian braising gravy. Set the multicooker on the slow cook-high setting, cover and cook until the pork is fork-tender, about 4 hours.

Skim the fat off the sauce. Cut the sausages into slices. Place the pork and sausages in the center of a large platter. Add the pasta to the sauce in the multicooker and toss to coat evenly. Add the arugula and toss until just wilted. Arrange the pasta around the pork and sausages and garnish with cheese. Lightly drizzle with olive oil and serve immediately. Serves 6 to 8.

Williams-Sonoma Kitchen.