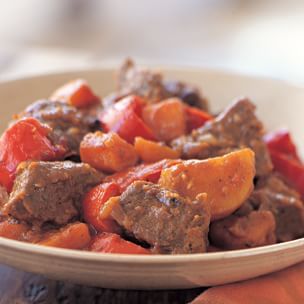 Hungarian Beef Stew
There are many different varieties of paprika, so be sure to use a good-quality brand. Hungarian and Spanish paprika are the most popular, in particular Pimenton de la Vera. These varieties come in dulce (sweet) and picante (spicy). For this recipe, use sweet paprika or a combination of sweet and spicy.
Ingredients:
2 Tbs. olive oil

2 lb. boneless beef chuck, trimmed of excess fat and cut into 1 1/2-inch pieces

2 large yellow onions, chopped

Salt and freshly ground pepper, to taste

3 large garlic cloves, minced

1 1/2 Tbs. sweet smoked paprika

2 Tbs. tomato paste

4 cups chicken broth

1 lb. boiling potatoes, quartered

1 red bell pepper, seeded and cut into 1/2-inch strips

2 carrots, peeled and cut into 1-inch chunks
Directions:
Cook the onions and beef
In a Dutch oven over high heat, warm the olive oil. Add the beef and onions, season with salt and pepper, and cook, stirring frequently, until the beef is browned and the onions begin to caramelize, about 10 minutes. Stir in the garlic, paprika and tomato paste. Add the broth, bring to a boil, reduce the heat to low, cover and cook until the meat is nearly fork-tender, about 1 hour.

Finish the stew
Add the potatoes, bell pepper and carrots, and continue to cook, covered, until the vegetables are tender, about 30 minutes more. Divide the stew among individual shallow bowls and serve immediately. Serves 4 to 6.

Adapted from Williams-Sonoma Food Made Fast Series, One Pot, by Carrolyn Carreño (Oxmoor House, 2008).