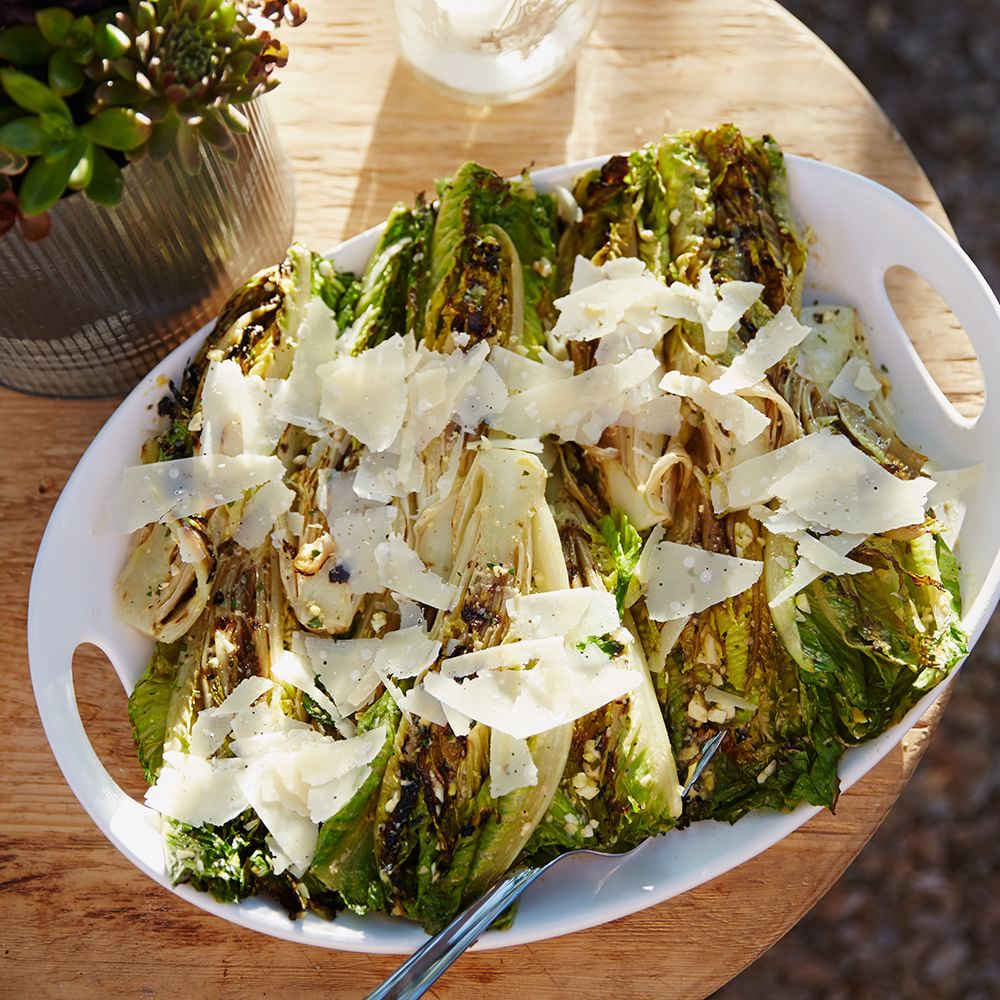 Grilled Hearts of Romaine Salad
Although lettuce might not seem a likely candidate for grilling, in this recipe the hearts of romaine pick up a slightly smoky flavor from the grill, a welcome counterpart to the pungent dressing made with plenty of chopped garlic.
Ingredients:
2 Tbs. extra-virgin olive oil, plus more for brushing

1/4 cup (1 1/2 oz./45 g) finely chopped garlic

2 Tbs. finely chopped anchovy

4 tsp. fresh lemon juice

1/2 tsp. chopped fresh flat-leaf parsley

2 hard-boiled eggs, finely chopped

2 hearts of romaine, halved lengthwise through the core

Parmesan cheese for shaving
Directions:
In a small saucepan over the lowest heat possible, combine the olive oil and garlic and heat until the garlic begins to soften, 4 to 5 minutes. Do not allow the garlic to brown; if the oil becomes too hot and the garlic begins to darken, take the pan off the burner for a few minutes. Add the anchovies to the pan and, using a wooden spoon, mash the anchovy into the olive oil until thoroughly combined. Remove from the heat and let cool to room temperature.

Transfer the olive oil mixture to a large bowl and add the lemon juice, parsley and hard-boiled egg and stir to combine.

Prepare a medium-hot fire in a grill.

Lightly brush each romaine half with olive oil. Grill, cut side down, until the romaine is slightly charred, 1 to 2 minutes. You want the bottom of the romaine to be lightly browned, but do not overcook it or it will turn bitter. Remove the romaine from the grill and, while still hot, transfer to the bowl with the dressing. Transfer to a serving platter and, using a vegetable peeler, shave Parmesan on top, using 4 to 6 slices of Parmesan for each romaine half. Serve immediately. Serves 4.

Ari Rosen, Co-Owner and Chef, Scopa, Healdsburg, CA.