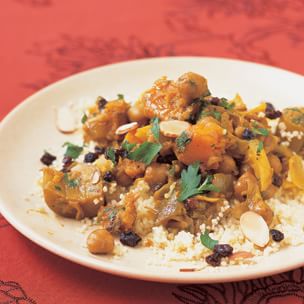 Eggplant and Golden Squash Tagine with Chickpeas and Raisins
The word tagine refers to both a gently simmered North African stew and the conical cooking vessel used for stewing meats and vegetables in their own juices. Serve this sweet-spiced stew of eggplant and golden squash over couscous with a dab of harissa, the fiery Moroccan chili paste. If you can't find ras el hanout, a Moroccan spice blend, substitute cumin and coriander in equal amounts. The 1/2 preserved lemon can be replaced by 1 1/2 tsp. fresh lemon juice plus 1/8 tsp. salt.
Ingredients:
1 1/2 lb. butternut squash

1 lb. slender eggplant

1 1/2 Tbs. olive oil

1 yellow onion, chopped

1 garlic clove, minced

2 Tbs. ras el hanout

1/2 tsp. ground turmeric

1/2 tsp. salt, plus more, to taste

1 can (14 1/2 oz.) chickpeas, drained and rinsed

1 1/2 cups vegetable broth

1/2 preserved lemon, rinsed and chopped

1 1/2 tsp. fresh lemon juice

Freshly ground pepper, to taste

1/2 cup chopped fresh flat-leaf parsley

1/2 cup sliced almonds, toasted

1/4 cup raisins or currants
Directions:
Peel and halve the butternut squash, scoop out the seeds and cut the flesh into 1-inch chunks. Trim the eggplant and cut into 1 1/2-inch chunks.

In a large pot over medium-high heat, warm the olive oil. Add the onion and garlic and cook, stirring frequently, until the onion is soft, about 5 minutes. Stir in the ras el hanout, turmeric and the 1/2 tsp. salt and cook for 1 minute. Add the squash, eggplant, chickpeas, broth and preserved lemon and bring to a boil. Reduce the heat to maintain a simmer, cover and cook until the squash and eggplant are tender, about 20 minutes. Stir in the lemon juice and season with salt and pepper.

In a small bowl, stir together the parsley, almonds and raisins. Stir two-thirds of the parsley mixture into the tagine, then sprinkle the remaining mixture on top. Serve immediately. Serves 4.

Adapted from Williams-Sonoma Eat Well, by Charity Ferreira (Oxmoor House, 2008).