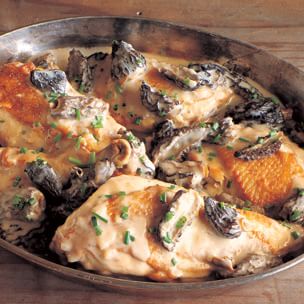 Chicken Fricassee with Morel Mushrooms and Thyme
The herbal, woodsy flavor of fresh thyme amplifies the meaty, musky taste of morel mushrooms. In this earthy version of a classic French chicken dish, the morels' unique character is showcased in a creamy, tangy, crème fraîche-based sauce.
Ingredients:
3/4 lb. fresh morel mushrooms, each halved lengthwise

1 chicken, about 3 1/2 lb.

1 1/2 tsp. kosher salt, plus more, to taste

1/2 tsp. freshly ground pepper, plus more, to taste

1 tsp. peanut or grapeseed oil

4 Tbs. unsalted butter

2 shallots, minced

3 Tbs. all-purpose flour

3/4 cup dry white wine

1 1/2 cups low-sodium chicken broth

4 fresh thyme sprigs

4 fresh flat-leaf parsley sprigs

1/2 cup crème fraîche

1 Tbs. minced fresh chives
Directions:
Rinse the morels quickly but thoroughly under cold running water, dislodging any grit caught in their spongelike crevices. Pat dry.

Cut the chicken into 9 pieces, then season with the 1 1/2 tsp. salt and the 1/2 tsp. pepper.

In a Dutch oven over medium-high heat, warm the oil until very hot but not smoking. Working in batches, add the chicken pieces, skin side down, and cook, turning once or twice, until lightly browned on both sides, about 5 minutes per batch. Transfer to a platter.

Reduce the heat to medium and melt 2 Tbs. of the butter. Add half of the mushrooms and sauté until they give off their juices, the juices evaporate and the mushrooms are sizzling, about 6 minutes. During the last 2 minutes or so, stir in half of the shallots. Transfer to a plate. Repeat with the remaining butter, morels and shallots.

Reduce the heat to medium-low and return the morel mixture to the pot. Sprinkle with the flour and mix well. Stir in the wine and broth and bring to a simmer. Tie the thyme and parsley sprigs together with kitchen twine and add to the pot. Return the drumsticks, thighs and wings and then the breasts to the pot. Cover and simmer, stirring the sauce and turning the chicken occasionally, until the chicken shows no sign of pink when pierced with a sharp knife near the bone, 35 to 40 minutes.

Transfer the chicken to a warmed deep serving dish and cover loosely with aluminum foil. Discard the herb sprigs. Stir the crème fraîche into the pot, increase the heat to medium-high and bring to a boil. Cook, stirring often, until the sauce is thickened, about 5 minutes. Adjust the seasonings with salt and pepper. Pour the sauce over the chicken, sprinkle with the chives and serve immediately. Serves 4.

Adapted from Williams-Sonoma New Flavors for Chicken, by Rick Rodgers (Oxmoor House, 2008).