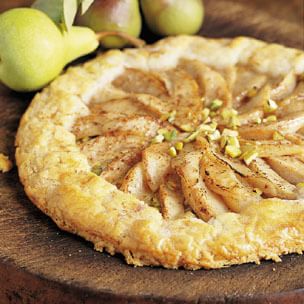 Candied Pear Tart with Pistachios
Refrigerating the dough before rolling it out allows the moisture in the dough to become more evenly distributed, so it will be less likely to stick as you roll. It also gives the fat time to firm up. For easier rolling, place the dough on a marble pastry board dusted with flour or use a flour-dusted pastry cloth. This rustic tart is free-form, which means it is shaped by hand on a baking sheet, rather than baked in a tart pan.
Ingredients:
1 cup all-purpose flour

1/4 tsp. plus 4 Tbs. sugar

3/4 tsp. salt

8 Tbs. (1 stick) cold unsalted butter, cut into
small pieces

1 Tbs. canola oil

2 firm-ripe Anjou pears, peeled, cored and cut
into 1/4-inch-thick slices

1/8 tsp. ground cinnamon

1/8 tsp. freshly grated nutmeg

1/4 cup salted pistachios, finely chopped

1 egg, beaten with 1 Tbs. water
Directions:
In the bowl of a food processor, combine the flour, the 1/4 tsp. sugar and 1/2 tsp. of the salt and pulse once to combine. Add the butter and process in short pulses until large crumbs form, about 1 minute. Turn the dough out onto a pastry board and press together to form a 5-inch disk about 3/4 inch thick. Cover with plastic wrap and refrigerate for at least 1 hour.

In a large sauté pan over medium heat, warm the oil. Add the pears and the remaining 1/4 tsp. salt and cook until the pears begin to soften, 4 to 5 minutes. Sprinkle the pears with 2 Tbs. of the sugar, the cinnamon and nutmeg, and cook until the sugar melts and the mixture thickens, 3 to 4 minutes. Transfer the pears to a plate and let cool to room temperature.

Preheat an oven to 400°F. Line a baking sheet with parchment paper.

On a floured surface, roll out the dough into a 9-inch round and transfer to the prepared baking sheet. Sprinkle the pistachios evenly over the pastry and arrange the pears on top, overlapping the slices and leaving a 1-inch border. Fold the border over the pears, pleating the edges to make them fit. The center will be open. Brush the edges with the egg mixture and bake until the edges of the tart are golden, about 25 minutes.

Sprinkle the remaining 2 Tbs. sugar evenly over the pears. Using a kitchen torch according to the manufacturer's instructions, move the flame continuously in small circles over the surface until the sugar melts and lightly browns. Or, place the tart under a broiler until the sugar melts. Serve immediately. Serves 8.