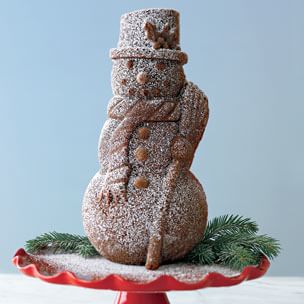 Brown Butter Snowman Cake
This jolly snowman cake is the perfect centerpiece for a holiday buffet. He can be decorated simply, with a snowfall of confectioners sugar, or with frosting and candy bits. For instructions on assembling and decorating, click on the link at left.

When baking the cake, we recommend that you place a baking sheet on the oven rack below the pan to catch any batter that might drip over the edge.
Ingredients:
32 Tbs. (4 sticks) unsalted butter

3 cups all-purpose flour

2 tsp. baking powder

1 1/4 tsp. salt

1 1/4 cups milk

1 Tbs. vanilla extract

1 2/3 cups granulated sugar

3/4 cup firmly packed light brown sugar

4 eggs

Vanilla Buttercream for assembling and decorating
Directions:
Have all the ingredients at room temperature.

In a saucepan over medium heat, melt the butter, then cook until the solids separate and settle on the pan bottom, 3 to 5 minutes. Continue to cook until the solids brown and are almost burnt, 18 to 20 minutes more. Pour the brown butter into a bowl, leaving the solids in the pan (discard the solids). Let the butter cool at room temperature until firm. The brown butter can be prepared up to 2 days in advance; cover and refrigerate until ready to use. Bring to room temperature before using.

Position a rack in the lower third of an oven and preheat to 325°F. Brush the pan with unsalted vegetable shortening and lightly flour. To ensure easy release and excellent definition of the pattern, flour the pan with Wondra® flour, a fine flour typically used to thicken gravy. Tap out excess flour.

Over a sheet of waxed paper, sift together the flour, baking powder and salt. In a small bowl, combine the milk and vanilla. Set aside.

In the bowl of an electric mixer fitted with the flat beater, beat the brown butter on medium speed until creamy and smooth, 1 to 2 minutes. Add the granulated sugar and brown sugar and continue beating until light and fluffy, about 5 minutes, stopping the mixer occasionally to scrape down the sides of the bowl. Add the eggs one at a time, beating well after each addition.

Reduce the speed to low and add the flour mixture in three additions, alternating with the milk mixture and beginning and ending with the flour. Beat each addition just until incorporated, stopping the mixer occasionally to scrape down the sides of the bowl.

Spoon the batter into the prepared pan, dividing it evenly between the two halves and spreading a little extra into the head area of the pan. Bake until the center of the cake springs back when touched and a toothpick inserted into the center comes out clean, 55 to 60 minutes. Transfer the pan to a wire rack and let the cake cool upright in the pan for 15 minutes.

Tap the pan gently on a work surface to loosen the cake. Set the rack over the top of the cake, invert the pan onto the rack and lift off the pan. Let the cake cool completely, 3 to 4 hours, before assembling and decorating with vanilla buttercream. Serves 12 to 14.

Williams-Sonoma Kitchen