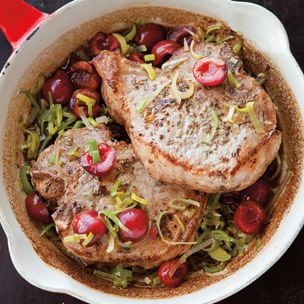 Braised Pork Chops with Cherries
Cherries have a short season, heralding the start of summer. They pair well with duck or pork in savory dishes, bringing out the natural sweetness of the meat. A cherry pitter will make short work of the stones. When fresh cherries aren't in season, use dried cherries.
Ingredients:
4 bone-in, center-cut pork loin chops, each 1 inch thick

Salt and freshly ground pepper, to taste

1 Tbs. minced fresh rosemary


3 Tbs. unsalted butter

2 leeks, white and light green portions, halved lengthwise and thinly sliced


1 cup chicken broth

1/4 cup port wine

2 Tbs. balsamic vinegar


1/2 cup dried cherries or 1 cup fresh pitted cherries, halved
Directions:
Season the pork chops with salt and pepper and sprinkle with the rosemary, patting the seasonings firmly to adhere to the meat. In a sauté pan over medium-high heat, melt 2 Tbs. of the butter. Add the pork chops and cook, turning once, until golden on both sides, about 6 minutes. Transfer to a plate.

Reduce the heat to medium and melt the remaining 1 Tbs. butter in the pan. Add the leeks and sauté until softened and beginning to brown, 3 to 4 minutes. Pour in the broth, stirring to scrape up the browned bits from the pan bottom, and cook for 1 minute. Stir in the wine, vinegar and cherries.

Return the pork chops and any juices to the pan and spoon the liquid over them. Cover, reduce the heat to medium-low and simmer until the pork is tender and barely pink in the center, about 15 minutes. Divide the chops among plates, spoon the cherry mixture over the top and serve immediately. Serves 4.

Adapted from Williams-Sonoma One Pot of the Day, by Kate McMillan (Weldon Owen, 2012).