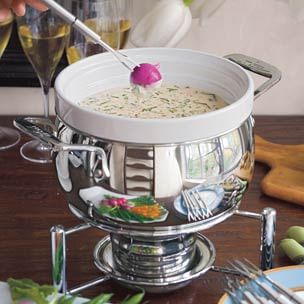 Blue Cheese Fondue
Be sure to use a rubber spatula when stirring in the cheese mixture. A whisk will break up the cheese, causing the fondue to turn bluish-gray.
Ingredients:
3/4 lb. Cambozola cheese, rind removed,
cheese crumbled
3/4 lb. pungent blue cheese, rind removed,
cheese crumbled

5 tsp. cornstarch

1/4 cup dry white wine

2 tsp. minced fresh thyme

3/4 cup heavy cream

Pinch of cayenne pepper

1/4 tsp. cracked black pepper

5 fresh chives, snipped

2 to 3 lb. assorted vegetables, such as blanched
green beans, broccolini and asparagus, peeled
baby carrots and radishes

1/2 loaf crusty bread, cut into cubes
Directions:
In a bowl, combine the cheeses and cornstarch. Set aside.

In a heavy-bottomed saucepan over medium heat, combine the wine and thyme and simmer for 1 minute. Whisk in the cream, cayenne and black pepper. When the cream mixture begins to bubble, reduce the heat to medium-low. Add the cheese mixture 1/3 cup at a time, stirring with a rubber spatula until the cheese is completely melted before adding more.

Fill a fondue pot with 1 inch of simmering water and place the ceramic insert over the pot. Transfer the cheese fondue to the insert and stir in the chives. Serve warm with assorted vegetables and bread. Serves 6 to 8.