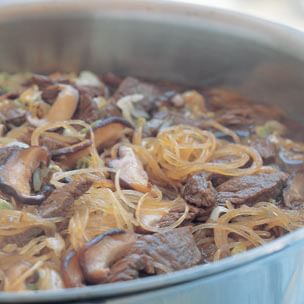 Beef Sukiyaki with Noodles
The meat must be very thinly sliced for this dish. Ask your butcher to slice it for you with a slicing machine, or put it into the freezer for at least 30 minutes or up to 1 hour and then slice it yourself. Firming it up in the freezer makes cutting very thin, uniform slices easier.
Ingredients:
1/4 cup water

1 cup low-sodium soy sauce

1/2 cup mirin

1/2 cup sake

2 Tbs. sugar

2 Tbs. corn or peanut oil

1 yellow onion, thinly sliced

1/2 lb. shiitake mushrooms, stems discarded
and caps thinly sliced

1/2 large head napa cabbage, shredded

6 oz. cellophane noodles, soaked in hot water to
cover for 15 minutes and drained
1 lb. beef sirloin, very thinly sliced across the
grain

2 green onions, thinly sliced
Directions:
In a bowl, combine the water, soy sauce, mirin, sake and sugar and stir to dissolve the sugar. Set the braising liquid aside.

Heat a wok or large fry pan over high heat until very hot and add the oil. Add the yellow onion and stir-fry just until tender, about 3 minutes. Add the mushrooms and stir-fry for 1 minute. Add the cabbage and stir-fry just until the cabbage wilts and the mushrooms have softened, about 2 minutes.

Reduce the heat to medium, pour the braising liquid over the vegetables and bring to a low simmer. Stir in the noodles and beef and simmer for about 3 minutes. Transfer to a serving dish, garnish with the green onions and serve immediately. Serves 4.

Adapted from Williams-Sonoma Food Made Fast Series, Asian, by Farina Wong Kingsley (Oxmoor House, 2007).